Cambodia Is Considering Permitting Domestic Airlines to Resume Regional Flights
Ou Sokmean
August 30, 2020 12:32 PM
The five airlines would only be allowed flights in Southeast Asia and China
PHNOM PENH—The Cambodian authorities are looking into allowing the country's five airlines to resume international fights as part of their recovery plan from the Novel Coronavirus (COVID-19) pandemic.
Chea Oun, spokesperson for the State Secretariat of Civil Aviation, said on Aug. 28 that the government has been studying the feasibility of permitting these five airlines to resume domestic and regional flights especially to some parts of China and in Southeast Asian countries where the spread COVID-19 is at a lower level.
"This is also a possibility," Oun said in a phone interview, pointing out that flying and transporting passengers to and from China would present no risk as China has been able to manage the COVID-19 situation well.
The five airlines that may be authorized to operate again are Cambodia Angkor Air, Sky Angkor Airlines, Cambodia Airways, JC Airlines and Lanmei Airlines​, he said.
"With all countries in our region that have flights to Cambodia, we will look at any country that has low risk of infection in order to restarts flights as this enables economic recovery," Oun said, adding that the airline companies will suffer even more of a significant financial blow if flight restrictions remain in place any longer.
Once flights resume, procedures for flight resumption will be in accordance with international standards for COVID-19 preventive measures prepared by the International Civil Aviation Organization with support from the World Health Organization, he said.
However, Oun could not confirm when exactly the five airlines may be allowed to officially resume flights as the Cambodian authorities are still studying the situation, he said.
The ongoing COVID-19 pandemic has driven an exponential decline in air travel all over the world. In Cambodia, the number of passengers arriving in the country has dropped by more than 90 percent with only 500 passengers or so arriving at the Phnom Penh International Airport each day, according to Oun.
In pre-pandemic times, Cambodia's three airports would welcome more than 40,000 people per day with Phnom Penh International Airport receiving 17,000 passengers, the Siem Reap International Airport nearly 17,000 people, and the Preah Sihanouk International Airport around 8,000 people, Oun said.
Related Articles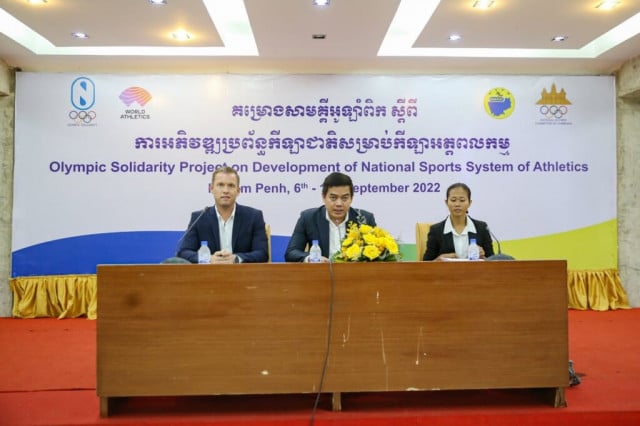 September 17, 2022 9:36 AM