Cambodia, Laos Army Chiefs Pledge Closer Links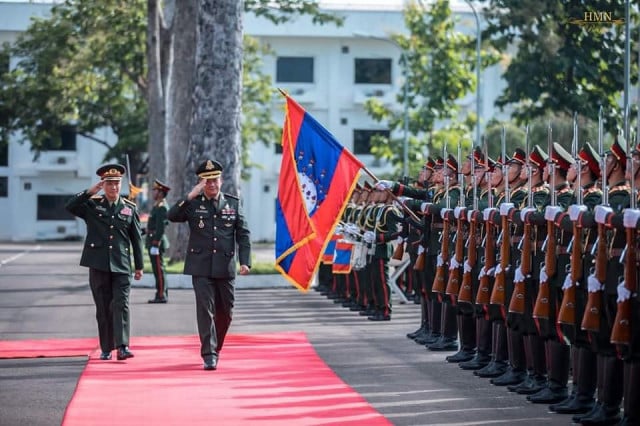 PHNOM PENH – The armies of Cambodia and Laos have pledged to boost cooperation and promote military training exchanges.
The agreement came during a meeting on Aug. 30 between Royal Cambodian Army Commander Hun Manet and Lao People's Armed Forces' chief of the general staff Khamlieng Outhakaysone in Vientiane.
Before the meeting, Manet and Khamlieng reviewed a guard of honor. Manet is in Vientiane for a three-day visit, his first to the neighboring country as army commander.
The visit coincides with the 66th anniversary of the establishment of diplomatic ties between the countries and is part of the implementation of a commitment to strengthening defense cooperation agreed by their leaders.
Cambodia and Lao established diplomatic ties in 1956 and the ties were upgraded to a "Comprehensive and Long-term Strategic Partnership" in 2019.
"Going forward, both sides expressed their commitment to continue to strengthen and promote cooperation at the army level to be closer and stronger, especially on exchange activities in the field of human resource training," the Royal Cambodian Army said in a statement.
Khamlieng, who is also Lao deputy defense minister, said that Manet's visit is an important link between the armies of the two countries and expressed hope that this would contribute to the promotion of friendship and cooperation between the two countries as good neighbors with long-standing historical ties.
Manet recalled the traditional friendship between Cambodia and Laos which ushered close cooperation from the beginning.
"Manet also expressed his satisfaction and gratitude for the spirit of mutual assistance between the country and the people of both countries as good neighbors," the statement said.
Manet and Khamlieng praised the achievements of the two sides and, despite disruptions due to COVID-19, maintaining peace, security, stability and good order in the border areas while jointly preventing and fighting against all kinds of transnational crime.
Manet also called on General Chansamone Chanyalath, Lao deputy prime minister and defense minister, on the same day.
As army commander, Manet has visited Thailand, Vietnam and Singapore in Southeast Asia, as well as other Asian countries including Japan, China and South Korea.
Related Articles