Cambodia Modernizes Agriculture for Global Competition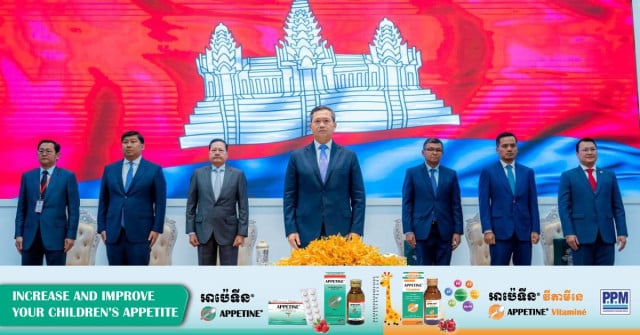 November 20, 2023 2:05 PM
PHNOM PENH – The agriculture sector stands at the heart of Cambodia, Prime Minister Hun Manet said as he inaugurated the fifth and sixth priorities to boost production and markets.
In a complex geopolitical environment and uncertain global economy, Cambodia cannot walk away from the agricultural sector even if it is not entirely dependent on this sector, he said on Nov. 20.
Agriculture contributed 22 percent of GDP in 2022 and employs 2.6 million people, making it a vital economic pillar.
Hun Manet said the sector would be transformed from traditional labor-intensive to technologically based, including linking family farming to high-standard, competitive and even supply-oriented agriculture.
He aims for farmers to excel as raw material suppliers not only regionally but globally.
Farmers, the private sector and stakeholders were key to driving this ambition while the government lent support and set out useful policies.
These actors help push production and supply chains by implementing interconnected work for mutual benefit, he said, pleading to compete in the sector on a global scale.
"Our country is small. So, if we don't aim big, we will never win. I would like to deem this forest as the whole forest, not a single tree," he said.
Stakeholders should boost ASEAN markets which Cambodia needs to strengthen by giving consumers there more choices before looking at the big markets in Africa or Latin America. Cambodia also needed to keep up with constant changes.
He cited the rice sector as an example of agriculture development. He called for consideration of competition with neighboring countries, especially the organization of a modern agricultural community that modernizes thinking and mode of cooperation.
Rice is Cambodia's primary crop and main agricultural export.
China is the largest importer of Cambodian milled rice (45%), followed by Europe (32%) and the rest of the world (23%). Vietnam receives most of the paddy rice.
The UN Food and Agriculture Organisation says cashews, mango and aquaculture have great potential. Cambodia ranks third in the world for cashew production while mango production has significantly increased in recent years, reaching a planting area of 152,073ha and an annual production of 2.2 million tonnes.
Cambodia's primary protein source is fish, and increased production and processing could address domestic production shortages and enhance export opportunities, it says.
Hun Manet said agriculture is not only about growing crops and raising livestock but also about working in line with geographical location and market demand.
He said that when the world is facing a food crisis, Cambodia has not only ensured food security for its country but has leftover agricultural products and exported more than 6 million tonnes in the first 10 months of 2023.
So far, the six priority policies of the 7th mandate government's first Pentagonal Strategy have been implemented.
The fifth policy is the mechanisms and financing programs aimed at boosting production, marketing and maintaining key agricultural prices at a reasonable level. The sixth policy is the deployment of agricultural technical officers.
"I strongly hope that the implementation of the fifth and the sixth priorities will bring success and contribute the food security, improve farmers' livelihood as well as sustain the national economic growth," Hun Manet said.
Related Articles