Cambodia Registers 157 New COVID-19 Cases and Three More Deaths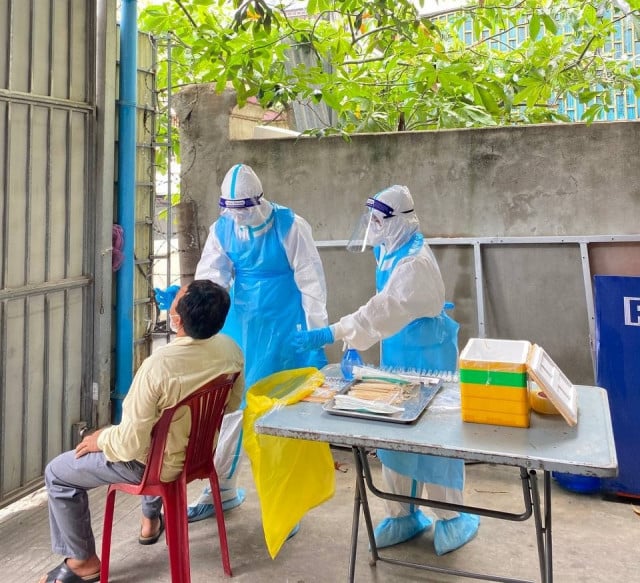 A ban on alcohol sale is imposed in Phnom Penh while parts of the city are in lockdown and table service at restaurants and food stalls is prohibited for 14 days
PHNOM PEN--The health authorities on April 11 reported that 156 new cases of COVID-19 infections linked to the Feb. 20 community outbreak and three deaths due to the coronavirus had been recorded.
According to Or Vandine, spokesperson for the Ministry of Health, 141 of these cases involved people in Phnom Penh, eight in Koh Kong Province, four in Svay Rieng Province, two in Takeo Province and one in Kandal Province.
Moreover, a 43-year-old Nigerian man who arrived in Cambodia from overseas on April 9 has tested positive for the coronavirus, she said in a press statement.
The three people who lost their lives to COVID-19 are a 36-year-old man, a 48-year-old man and a 72-year-old woman, Vandine said, adding that the three patients were reported to have suffered from severe lung disease.
In the meantime, 72 coronavirus patients have made a complete recovery and been discharged from hospital, she added.
These latest infections have brought to 4,239 the number of COVID cases in the country since the start of the pandemic. Among them, 2,052 patients remain hospitalized and 29 have passed away.
Temporary ban on alcohol sales countrywide and table food service in Phnom Penh where areas under lockdown expand
As the country is about to celebrate Khmer New Year—a 3-day holiday starting on April 14—the Cambodian government and health authorities have looked into measures to curb the Feb. 20 community spread.
Phnom Penh, in particular, has been hit hard by the new wave of infections that has spread to factories and markets.
While the Phnom Penh municipality already imposed partial lockdown in some parts of Mean Chey District, Por Senchey District and Sen Sok District on April 9, the partial lockdown was extended in Mean Chey District to the villages of Damnak Thom 2 and, Damnak Thom 3 and Trea 4 on April 10.
In addition, the Phnom Penh Municipality on April 10 issued a decision banning the sale of all alcoholic beverages for 14 days.
"In order to gain full control of the situation and prevent the virus to spread during the new year [celebrations], Phnom Penh City Hall instructs state markets, supermarket, marts, restaurant, food stalls, cafeterias as well as well as other drink shops to temporally suspend selling all types of alcoholic drinks for two weeks from April 11 to April. 24," the letter stated.
The Phnom Penh authorities also prohibited table service at restaurants and food outlets in the capital for 14 days.



*The article was modified to correct the information on the temporary alcohol ban. The ban only is imposed in Phnom Penh, not countrywide.
Related Articles