Taking the Heat – The Grueling Life on the COVID-19 Frontline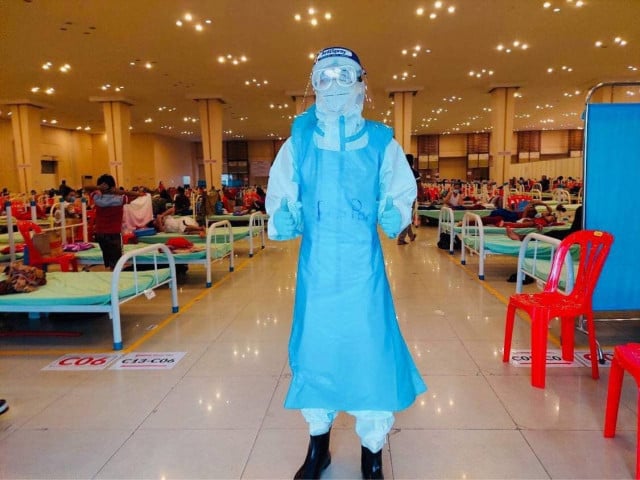 Phoung Vantha
April 23, 2021 10:23 AM
Nursing graduate answers call of duty in crisis
PHNOM PENH--Pov Bros graduated in nursing last year. Now he is on the COVID-19 frontline helping patients as Phnom Penh fights a surge in cases.
The work is arduous. The 24-year-old toils for long hours, often in sweltering conditions inside his Personal Protection Equipment (PPE) suit as his family worries about his safety.
"I decided to take part with the Ministry of Health to take care of those patients to fight against COVID -19. As someone in the health sector, I can't be selfish as the country is facing a problem and the government is in need," he said.
Bros works at the wedding venue in the Koh Pich Convention Centre, which has been turned into a COVID hospital. About eight doctors and 21 nurses work there, taking care of more than 1600 patients. He and the other medical staff have little time for breaks.
The graduate with a bachelor of nursing degree from the University of Health Sciences in 2020 said he applied to be a volunteer medical worker early this year after realizing that the outbreak had become more serious. He received two-day training and got confirmation early this month that he had passed to join the team.
His work comes as the number of cases recorded in Cambodia stood at 8,848 as of April 23. Of these, 3,148 people have recovered, leaving 5,643 active cases. The death toll has reached 61.
But there were still about 2,116 people without a place in a hospital or medical facility after testing positive.
Bros said that as someone who had studied in the health sector he could not be a bystander.
His PPE suit is level III, higher than level II, and is needed as a frontline medic in direct contact with patients. It takes 30 minutes to put on.
He could only wear it for three and a half hours the first time. Some others could only do two. Now, he can reach four to five hours in the extreme heat.
"Today, I started around 3 pm and just finished at 8 pm, so about five hours," he said.
As the youngest son in his family in Prey Veng province, he said his family worried about him but he told them not to worry and that they should happy to have a son helping society.
Bros said the number of doctors and nurses was small and was split into five groups for at the Koh Pich center. Working hours are flexible with each team working four days on regular shifts and a day on standby.
"Based on the situation and the seriousness of patients, a doctor and three nurses would check them but the team might not be able to stand for long hours. Some can do it for just two hours. They come back so another new team has to stand," he said.
In the morning and after came back out from the ward, Bros said that he also works as a watchman to check the CCT, and answer patients' phone calls for medicine. Some worry and think too much, so he gives them reassurance.
"In the morning I monitor the CCTV, and pick up the phone which has six lines," he said. "After that, I go back and look after patients.


"When I come back from looking after patients, I eat dinner and continue to monitor the CCTV, and take patients' phone calls. I keep talking to them and motivating them. About midnight, I go to bed."
On some days he is wakened during the night to check on patients in a severe condition or to receive new patients. As for food, patients and frontline staff get the same.
"Normally, frontline medical workers have to work for two weeks and self-quarantine for two weeks, but if the outbreak doesn't decrease, we might work for a month and self-quarantine for two weeks," he said. "We'll wait and see."
Related Articles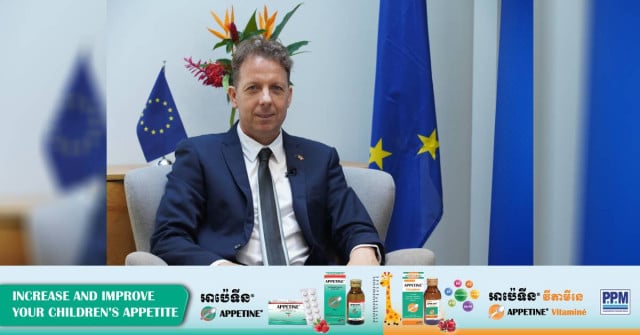 November 23, 2023 7:05 PM