Cambodia Stands Firm on One-China Policy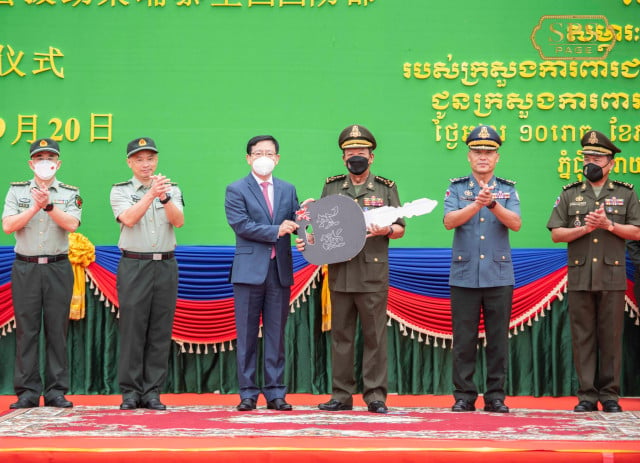 September 21, 2022 11:15 AM
PHNOM PENH – Cambodia has reaffirmed its support for the one-China policy and building a community with one destiny between Cambodia and China.
Defense Minister Tea Banh made the pledges during the handover ceremony of vehicles and military equipment from China on Sept. 20 in Kampong Chhnang province.
The minister said that despite the COVID-19 pandemic, cooperation between the countries remained close.
They continued to work together to combat the outbreak through vaccine assistance and provision of military assistance to the Ministry of National Defense.
"On behalf of the Royal Government and the Ministry of National Defense of Cambodia, including the Royal Cambodian Armed Forces, I reaffirm our commitment to maintaining, protecting, and enhancing friendship, cooperation, and mutual assistance between Cambodia and China," Banh said.
Cambodian-American political analyst Ear Sophal said this reaffirmation was a reiteration of Cambodia's long-standing stance on China. Cambodia will not betray China," he said via e-mail.
Military Assistance for a Shared Future
The Chinese government, through its Ministry of Defense, has provided 107 vehicles and other military equipment to the Cambodian Defense Ministry.
Wang Wentian, Chinese Ambassador to Cambodia, said military cooperation between Cambodia and China was a crucial part of building society and common destiny between the two countries, maintaining mutual trust and fruitful cooperation in various sectors, such as human resources development, military assistance, and military exercises.
"We're sincerely happy to promote the capacity of the Cambodian armed forces, enhancing the modernization of weapons and military infrastructure, and maintaining national and regional security," he said during the hand-over ceremony.
"We hope to work hand-in-hand with the Cambodian armed forces to maintain common interests."
The ambassador said this assistance was necessary for the Royal Cambodian Armed Forces and showed the profound cooperation between China and Cambodia.
Tea Banh said the assistance contributed crucially to maintaining peace, political stability and social security as well as preventing attempts to provoke social disorder by an extremist opposition group. He did not refer to any specific group.
"This assistance reflects a steel friendship and solidarity between the two countries, in which China always continues to support the Cambodian military, with no conditions, and promote cooperation," he said.
Analyst Ear Sophal said vehicles and military equipment were one way to show China's appreciation for Cambodia, but there was always a price to pay.
"There is no such thing as a free lunch. China expects loyalty from Cambodia and, increasingly, a military alliance. Ream is certainly one way for Cambodia to show appreciation to China," he said.
He added that the US relationship with Cambodia will keep getting worse until this fever with China breaks.
On Sept. 1, China also handed over 150 vehicles to the Cambodian Defense Ministry to transport officials to an upcoming ASEAN Defense Ministers' Meeting and for other purposes.
In August, Cambodia said it would extend its joint military exercises with China to include the Navy and discuss military exercises with China as Cambodia has the Ream base in Preah Sihanouk province and is prepared.
However, the US is concerned about possible Chinese involvement following the modernization of the base. Critics say any Chinese involvement would result in a loss of Cambodian sovereignty.
Tea Banh again dismissed concerns about the base. He said it was an old issue that no one could explain to those with malicious intent.
Related Articles