Cambodia will Investigate Thai Activist's Disappearance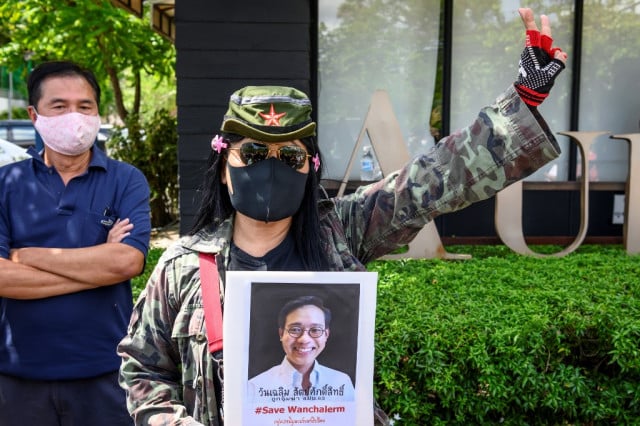 Phoung Vantha
June 9, 2020 8:09 AM
The announcement came from the National Police on June 9, some five days after Wanchalearm Satsaksit was abducted in Phnom Penh.

PHNOM PENH--Cambodian and Thai authorities both claim they have no information related to the disappearance of Wanchalearm Satsaksit—a Thai pro-democracy activist, who went missing in Phnom Penh on June 4. Security footage shows Wanchalearm being dragged into a black SUV by three apparently armed assailants as he left his apartment to buy food.

On Tuesday (June 9) Chhay Kimkhoeun, a National Police spokesperson, said that police will launch an investigation into Wanchalearm's disappearance—possibly in response to the international outrage generated online. "The disappearance of Thai activists doesn't relate to law enforcement by Cambodian authorities," he added.

It took five days since Wanchalearm disappeared before the Cambodian authorities announced they would launch an investigation, but officials have repeatedly stated they knew very little about the incident.

Khieu Sopheak, spokesman for the Ministry of Interior and Chhay Kimkhoeun, spokesman for the National Police, both said the same thing: That they had not yet received a request from any stakeholders to investigate the case yet.

"I have no information to hand yet and without any information, we cannot investigate it," Sopheak said.

Koy Kuong, spokesman for the Ministry of Foreign Affairs and International Cooperation, confirmed that the Foreign Affairs Ministry has now received a diplomatic note from the Thai Embassy in Cambodia requesting that the Cambodian side investigate and verify the kidnapping case to find out what has happened.

On June 8, Thai activists protested outside the Cambodian Embassy in Bangkok calling for an investigation into the missing activist. The protest, which was broadcast live over Facebook, called for the release of Wanchalearm or—if he is dead—for the culprits to show his body.

The family of Wanchalearm Satsaksit on Sunday called upon the government and international agencies to help find the activist, according to the Bangkok Post.

"We don't have any grudges against those who committed this crime. We pray that they will free [Mr Wanchalearm] soon. We are looking forward to his release, and we hope that this abduction will be the last case of forced disappearance," Sitanan said.

On June 5, Human Rights Watch (HRW) expressed deep concern and asked that the Cambodian authorities take action regarding the alleged abduction of a Thai political activist in the capital.

Wanchalearm, who is a prominent pro-democracy activist affiliated with the United Front for Democracy Against Dictatorship (UDD) known in Thailand as the "Red Shirts," fled to Cambodia following the May 2014 military coup in Thailand.

Wanchalearm was kidnapped around 5:54 p.m. on June 4, 2020 by a group of armed men, but he is by no means the first political activist to have gone missing in Cambodia. The principle of non-interference set out in the ASEAN Charter has long given governments enough of an excuse to turn a blind eye to the political upheaval that has characterized the region over the decades.

Political dissidents, exiled activists and human rights defenders from Southeast Asia have repeatedly gone missing from other ASEAN nations, prompting many to suspect a tacit government approval of Wanchalearm's disappearance—if not a fully active involvement. Cambodia's apparent reluctance to follow due process and open an investigation has raised eyebrows, but the lack of political will in Thailand to demand an investigation also aroused suspicion among netizens.

In December 2019, Chamroeun Suon—a former Cambodian National Rescue Party official—was almost abducted in Bangkok. Two armed men who spoke Khmer attacked Chamroeun with a stun-gun as he left a shop, but Chamroeun was able to escape and is now in the process of resettling further beyond the region.

There is as of yet no evidence to suggest that Cambodian authorities were complicit in Wanchalearm's disappearance, but in May 2007, Le Tri Tue—a Vietnamese dissident who had applied for asylum in Phnom Penh—also went missing less than a month after arriving in Cambodia. A US State Department Foreign Affairs Committee report from 2007 noted that Le Tri Tue was missing presumed to have been killed by government security forces, while another Vietnamese pro-democracy activist also vanished in Phnom Penh the same year, only to resurface in Vietnamese custody in An Giang province where he was sentenced to one year in prison.

A similar case occurred when Vietnamese Buddhist monk Thich Tri Luc was forced to flee to Cambodia following persecution for his religious beliefs in June 2002, but despite being granted refugee status by the UN High Commissioner for Refugees, he was abducted by Cambodian and Vietnamese officials and returned to Vietnam in July 2002.

Thich Tri Luc was imprisoned for two years before, as an officially UN-recognized refugee, he was permitted to leave Vietnam and began a new life in an unnamed Scandinavian country.

It is yet unclear what the Cambodian investigation into Wanchalearm's disappearance will yield, but it remains clear that ASEAN member states appear content to do each other's dirty work with regards to the rounding up of political dissidents on the run.
Related Articles