Cambodian Artist Em Riem: Bringing Home Art and Design Knowhow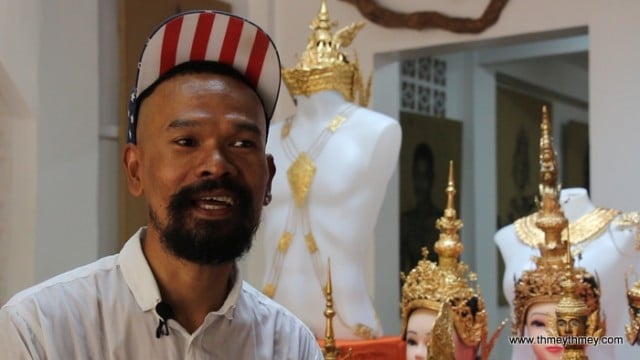 PHNOM PENH — Throughout his career, Em Riem has been both an artist and a designer, creating artworks as well as furniture adapted to people's habits and space requirements.
Having obtained several grants to study in France, there was never any question for him that he would return to Cambodia and try to share his knowledge, he said during an interview. And this is one of the reasons why the door is always open at his gallery/studio located at street level in the center of Phnom Penh.
Riem, who received a doctorate in design in France in 2007, recalled that he was fascinated by art and painting since he was in high school. This had prompted him after graduation to enroll at the Royal University of Fine Arts (RUFA) in Phnom Penh.
While at university, Riem also painted to support himself. His work soon featured in several exhibitions in the country.
After graduating from RUFA in 2001, Riem obtained a 3-year scholarship through the French Embassy in Phnom Penh to study painting and design at the renown École supérieure d'art et design Saint-Étienne in France. He studied as hard as he could so that teachers and other students would not think that Cambodian students were not up to standard, he said. Moreover, he wanted to continue receiving his scholarship and had to prove he deserved, he added.
When he obtained his diploma, Riem applied to the French Embassy in Phnom Penh Riem to obtain another scholarship, this time to pursue a PhD degree in design. At the time, there were few designers in Cambodia and he wanted to help fill the gap, he said.
"Even though we know how to design well, we have to learn a lot more from other countries," he said. While doing so at university, he added, "I thoroughly studied the Khmer style."




Riem, who received a doctorate in design in France in 2007, recalled that he was fascinated by art and painting since he was in high school. Photo: ThmeyThmey

Riem got his doctorate in 2007. He also was offered opportunities to work in France. But he had always meant to return to the country where there was work to be done in the field, he said. "I had only meant to study and learn in France," he explained.
Upon his return, Riem opened his own gallery/studio he named X-Em on Street 178, a short distance from Norodom Boulevard. Currently, Em Riem is a painting teacher, as well as a Khmer traditional jewelry, crown and costume designer.
Over the years, Riem has done paintings, sculptures, elaborate installations and furnuture. At times mixing Cambodian traditional designs and contemporary ones, he has also experimented with clothes designs.
In the 2010s, he was involved in the Rattan Project, which was supported by several Cambodian government ministries, international organizations, and the Rattan Association of Cambodia. Co-funded by the European Union and IKEA, which is a major Swedish furniture-design firm, the project aimed to help develop the rattan industry from the field to stores. Riem worked on designs for rattan furniture.
An artist who likes to experiment in art and design, Em hopes to set up a workshop to develop the art of making and embroidering traditional Khmer costumes. In the meantime, he said, "[w]hat I do today is helping a lot. In other words, I am a role model for the younger generation: I can set an example for them, [inspiring them] to follow what they love."
Related Articles