Chemicals Suspected to be Behind Mass Fainting in Garment Factory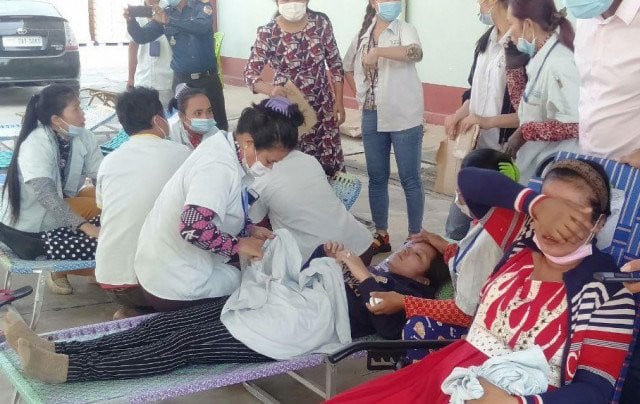 Police have suggested that the use of chemicals and improper health conditions inside Hathor International factory in Takeo Province could be why 86 workers collapsed
PHNOM PENH--A garment factory in Takeo Province has been accused of negligence towards health conditions after 86 workers passed out. Chemicals used in the factory are believed to be the cause, but police also pointed to the workers recently receiving their third dose of COVID-19 vaccines.
Workers at Hathor International, a factory in Tram Kak District, Takeo Province, were rushed to hospital on Feb. 8, with Deputy District Police Chief Cheng Chantra suggesting that the recent vaccinations were the reason for the workers' poor health.
"The 86 who fell unconscious were rushed to hospital because they were in poor health after being vaccinated," Chantra said, adding the workers were vaccinated over the weekend and returned to work immediately.
However, while side effects for vaccines are well-documented, the authorities will continue to inspect the situation at the factory, Chantra said.
Ouch Em, another deputy police chief in Tram Kak District, said that he suspected the mass fainting was due to the use of chemical substances used to treat the skin of the bags in the factory as he was aware of workers repeatedly collapsing and complaining of headaches.
"We suspect that the fainting may be due to the chemicals from the skins of the bags in the factory, but the authorities continue to investigate this case and advise the factory more," Em said.
Due to the volume of passed out workers, authorities were forced to send them to a range of public, private and NGO healthcare facilities around the district.
All 86 are in a stable condition but remain in hospital so that their health can be monitored.
Related Articles