China Looks to Future for Hun Manet Visit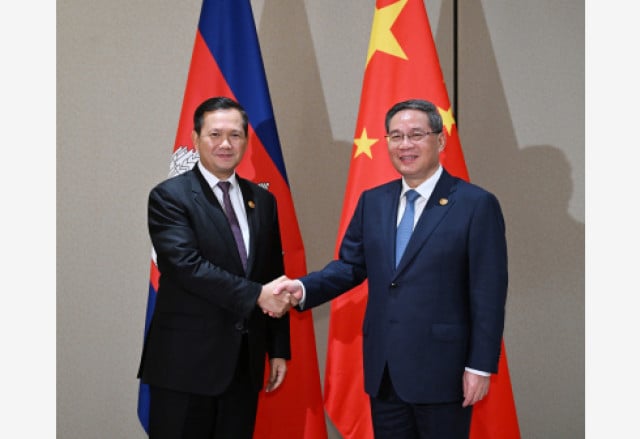 September 12, 2023 12:02 PM
PHNOM PENH – China hopes to chart the future of its Comprehensive Strategic Partnership of Cooperation with Cambodia when Prime Minister Hun Manet visits Chinese leaders in Beijing.
The direction of the partnership will be discussed when Manet meets President Xi Jinping, Premier Li Qiang and Chairman Zhao Leji on an official trip from Sept. 14 to 16.
Chinese Foreign Ministry spokeswoman Mao Ning told news briefing the first official visit by Hun Manet as PM showed the great importance the new Cambodian government attached to China-Cambodia relations.
"China hopes to, through this visit, chart the course for the comprehensive strategic cooperation between the two countries in the next stage," she said.
"In particular, we hope to deliver on the cooperation initiatives such as the industrial development corridor and the fish and rice corridor at an early date, and jointly usher in a new era of building a high-quality, high-level and high-standard China-Cambodia community with a shared future."
The relationship between the countries was upgraded to a strategic partnership in 2010.
Former foreign minister Prak Sokhonn described its importance in an interview with China's People's Daily in 2018.
He said relations and cooperation between Cambodia and China had grown rapidly, particularly after ties were promoted to a Comprehensive Strategic Partnership.
There had been more frequent exchanges of visits at all levels, from the central to local institutions. These had bolstered political trust and expanded cooperation in all sectors.
"Increase in intergovernmental exchanges and cordial contacts has encouraged fast-growing two-way trade and Chinese investment in Cambodia, thereby contributing significantly to Cambodia's high growth," he said.
The PM, who took on the job on August 23, is in the midst of a quick succession of foreign trips.
On Sept. 3, he told visiting Liu Jianchao, Minister of the International Department of the Chinese Communist Party's Central Committee, that his new government would adhere firmly to friendly policies towards China and make the relationship between Cambodia and China even better.
"I will choose China as my first official outbound visit after taking office as Prime Minister," he told Liu.
Li Qiang met Hun Manet at the ASEAN Summit in Jakarta this month, saying that China-Cambodia ties have withstood changes in the international landscape, and remained rock-solid and unbreakable, setting an example for a new type of international relations.
Related Articles