Chinese Doctors Help Restore Eyesight for Cataract Patients in Cambodia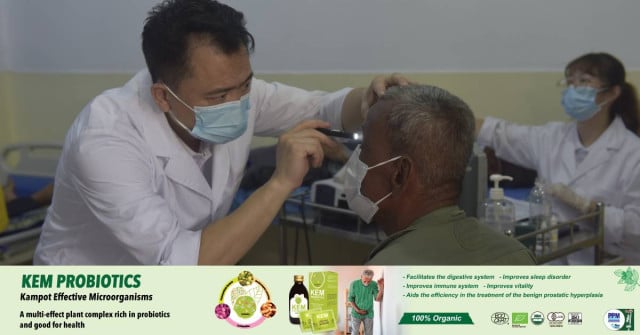 November 15, 2023 1:00 PM
PREY VENG, Cambodia -- Kea Ren, a 68-year-old Cambodian woman, is overjoyed on Tuesday as she can see once again after having her cataracts in both eyes removed free of charge by a Chinese medical team.
A native to Prey Veng province in southeast Cambodia, the farmerette said the surgery has brought her smile and hope again as she had lived in blindness for seven years because she had no money to pay for the surgery.
"Cataract surgery was good, and I'm elated that my eyesight was restored," Ren told Xinhua after having had the bandages removed from her eyes a day after surgery at the compound of the Prey Veng Provincial Referral Hospital.
"I'm happy that the doctors have come to help impoverished cataract patients regain vision," she said. "Before surgery, my vision was cloudy, but after surgery, it has come back."
Ren said this China-funded humanitarian mission has not only helped restore eyesight, but also get rid of poverty.
Another 67-year-old cataract patient Buth Ron said a Chinese ophthalmologist had examined his eyes and found that he had a cataract in his left eye, that required surgery to regain his vision.
"I'm delighted that they, foreigners, have come to help Cambodians and the surgery does not cost us any money at all," he told Xinhua before undergoing surgery.
"I want them to come every year because this is a very good humanitarian mission to eliminate blindness among our people," the father of five children said.
Funded by China's GX Foundation, the Cataract Blindness Eradication Project for the period of three years from Sept. 2022 to Sept. 2025 is expected to regain vision for some 10,000 cataract patients in Prey Veng province.
Under the project, the GX Foundation has dispatched a Chinese medical team, together with two mobile eye treatment centers and a 35-seat bus, to offer free cataract surgery to patients in Prey Veng.
Ophthalmologist So Sopanhavatei, director of the Prey Veng Provincial Referral Hospital, said the project has provided a lot of benefits to cataract sufferers in the province.
"We are all very pleased and happy to see this project in Prey Veng because it has restored sight to blind people in our province," she told Xinhua.
Sopanhavatei said 14 local medical staff workers have been assigned to assist the Chinese medical team in this humanitarian mission.
"Cataract surgery performed by doctors from the GX Foundation is free of charge for all people," she said. "More than 90 percent of the patients were satisfied with their surgeries because before surgeries, they could not walk unguided, but after surgeries, they could walk, eat and work unaided."
Ophthalmologist Zhai Jianwei, leader of the eight-member Chinese medical team from Liuzhou Red Cross Hospital in south China's Guangxi Zhuang Autonomous Region, said the team has provided eye check-ups to more than 50 patients and performed at least 35 surgeries every day.
"Both the examinations and surgeries are provided free of charge," he told Xinhua.
"All cataract patients in Prey Veng province are eligible for treatment, and the results have been very positive. After surgery, over 90 percent of patients have achieved a visual acuity of 0.6 or above," he added.
Zhai said the project has earned love and support from local people, and added that he feels honored and proud to help regain vision for Cambodian cataract patients.
It is the second China-aided project in Cambodia after the first such one ended in 2019, helping restore eyesight for more than 6,000 cataract patients in the southeastern Kampong Cham province.
Related Articles