Community Under Siege: Fighting Eviction in Phnom Penh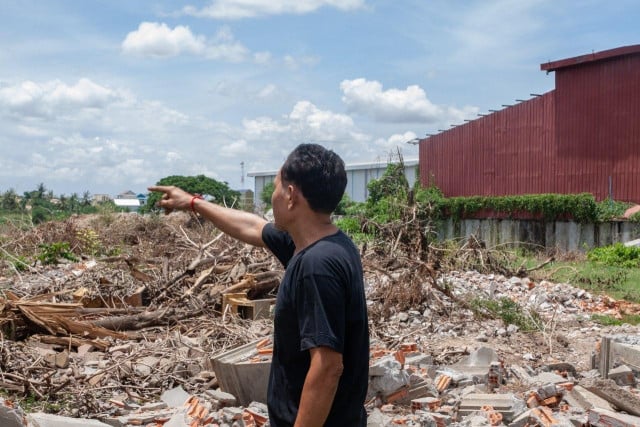 Gerald Flynn and Phoung Vantha
July 8, 2020 3:51 AM
A new report from land rights NGO Sahmakum Teang Tnaut (STT) highlights the eviction process and lasting damage wrought on Cambodians when the authorities seize their land.

PHNOM PENH--On the morning of June 27, the community of Boeung Chhouk A had gathered nervously outside their houses in Phnom Penh's Russey Keo district. Leader of the community Touch Sam On sat, sipping a bottle of water and watching the traffic intently for the telltale signs. He had been informed that June 27 was the day that the government would demolish his home and the homes of his community.

"We're not going anywhere," he said. "We will stand here together and we are willing to die to protect this place."

Representing 22 families in Boeung Chhouk A—roughly 50 people—Sam On and his family have lived by the side of Street 598 since 1995. Now, as they sat watching bikes, cars, trucks and tuk-tuks speed by on the sunbaked road, they fear that their way of life for the past 25 years may be irrevocably lost.

"We haven't spoken to a lawyer, for one thing we don't have the money and none of us really understand the process, Sam On said. "Realistically though, we have no faith in the justice system: In our society the poor never win these sort of cases.

"That's why we didn't bother with the legal process, it's useless for people like us," he said.

When Sam On had settled on the land in 1995, Cambodia's Land Law had just been promulgated in 1992, but the government lacked capacity to adequately address the 4 million applications for land titles that it received. The Ministry of Land Management wasn't even established until 1999, but according to the World Bank, even by mid-2001, just 15 percent of those 4 million applications had been processed. Sam On was one of the many who never received a certificate of ownership or occupancy.


Community leader Touch Sam On shows what remains of Long Neam's restaurant on June 27.
According to a new report published by housing and land rights group Sahmakum Teang Tnaut (STT), more than 50 communities—consisting of 9,832 families or roughly 40,000 people—have been evicted since the 1980s, with the occupation of public property cited as justification for around 70 percent of all evictions.

This isn't just about losing a home or a community, STT note that the impacts of evictions are wide-ranging and long-lasting.

"Indebtedness, loss of livelihood, physical harm and lack of access to healthcare and education services are just some of the abuses which families have had to endure in their fight to secure their right to housing," the report reads.

The 46-page report analyzed 68 communities, eight of whom were still in the midst of the eviction process. STT's research found that 50 of the communities were evicted and relocated, but that four of the communities studied were offered no relocation package and six communities had chosen to resettle themselves, rather than be forcibly evicted.

The report details how the destruction of property deeds and land titles under the Khmer Rouge—and the subsequent voiding of surviving titles in the 1980s—has left many parts of Phnom Penh with no titles or demarcation; a problem especially pertinent in disputes over public land.

Numerous pieces of legislation, including the Constitution of Cambodia, the 2001 amendments to the Land Law and the sub-decree on River Basin Management of 2015 attempted to clarify the boundaries of public land, but collectively these laws do not provide an exhaustive list of what is and is not public, according to STT's report.

Uninhabitable Relocation Packages

On June 18, 2020, authorities arrived at Boung Chhouk A unannounced and said that the land already belonged to a private owner, but wouldn't say who.

"They had no proof, everyone here was angry, the authorities who turned up didn't have any papers, no documents to prove anything," Sam On said. "They just told us we had to leave right away, but the community came out to protest."

By June 20, the authorities were back, this time with a bulldozer. Sam On explained that one member of the community had a heart attack as the bulldozer tore through their house, but the owner was presented with legal documents showing that the district authorities had acquired the right to dissemble the house. With no home, no land titles and no option, the family who had resided there for more than 20 years signed an agreement with the government and awaited relocation.

The relocation package, Sam On said, was a huge disappointment. Families were being offered $150 regardless of the size or nature of their property, and a new plot of land behind the Boeung Chhouk district authorities' office. There is no running water, no electricity and the would-be residents will be expected to provide their own materials to build their new home, according to Sam On.

One 45-year-old resident of Boeung Chhouk A, Long Neam, had been told by the authorities to demolish his house or it would be done for him. He has lived in the community for 20 years and operates a restaurant, half of which has now been reduced to rubble.

"They gave no reason, no explanation, they just told us we must prepare to leave," said Neam. "We have legal documents proving that we live here, but they said we just have to accept it. We're losing everything, we will have to rent a house and we can't run a restaurant from a rented home."

Neam said that negotiations with the authorities might lead to his family being moved to a nearby plot of land apparently designated for evictees, but he echoed Sam On's concerns over the lack of amenities.

"I'm speechless, it's so sad, I'm just at a complete loss as to what to do with my life and with my family's life," added a visibly angry Neam.


Members of the Boeung Chhouk A community awaiting the demolition of their houses on June 27.
The community's concerns are adequately supported by STT's findings. Of the 50 communities who were relocated, STT found that just eight of those communities had housing provided for them when they were forced to move. Just four out of 50 communities were relocated to destinations with an Electricite Du Cambodge connection and none of the communities had running water provided for them upon arrival to their new plots of land.

It's worth noting that all 50 evicted communities had been provided with housing and electricity by 2019, with 45 of the 50 also having access to running water, but it remains unclear how many years each community spent in uninhabitable relocation sites before the government agreed to provide them with basic amenities. Still, at the time of STT's research, there were many relocated communities who did not have access to healthcare facilities, drainage or sewage treatment, a refuse disposal area or street lighting.

Siege Mentality

Since the authorities' last visit, the residents of Boeung Chhouk A have stopped going to work, fearing that if they leave their homes, they will lose everything. A siege mentality began to settle in as drones were spotted hovering above the commune on June 26, some families took this as a sign that the government was scoping out the land and was preparing for talks.

"If there are negotiations, we are open to them," said Keo Tong, a 32-year-old shopkeeper who has called Boeung Chhouk A home for 25 years. "I absolutely do not support their actions, if the authorities were going to use our land for development projects—a school or a hospital—and if they gave us decent compensation, maybe it would be ok. But I don't think they will negotiate with us: We are too poor. So now, we must stand guard, we can't go anywhere."

Tong also affirmed his willingness to die to protect his community and their home, but remained pessimistic about the odds of any meaningful outcome—the lack of paperwork presents an insurmountable obstacle to their safety.

"We've been applying for ownership of the land for maybe four or five years now," said Sam On. "The government won't issue us anything, but we kept trying—but when we submitted an application in 2018, we were told that our land had been earmarked for development."

Sam On still keeps copies of the applications for ownership, but explained that, even after 2018, the community had nowhere else to go and saw no signs of development until now. He noted that the entire district of Russey Keo had witnessed a range of evictions and that the government had frequently erected fences around those communities whose houses were to be demolished.

"Last time they demolished a community nearby, they put up metal barricades so that nobody could get in and stop them," Sam On said. "There is plenty of disputed land in this area and so we've heard a lot of stories: The authorities come in the morning, destroy the houses and then new owners are set up by afternoon."

"At least, if nothing else, it's brought the community together in a way—we're all working to keep our way of life," he added, gesturing at the turnout in the small restaurant.

A Litany of Land Disputes in Cambodia

This is not the first time that Boeung Chhouk has come under threat. In 2002, the Russey Keo district authorities attempted to forcibly evict the community, claiming that they occupied state-owned land. Then some seven years later, in 2009, the community once again was told they must leave their homes, this time because the land allegedly belonged to a businessman and property developer by the name of Lao Tonmey.

Tonmey had torn down six houses, without producing the necessary legal documents, which led to a long-lasting feud. By October 2014, more than 100 residents protested outside of Phnom Penh's City Hall and six members of the community were accused of violence against Tonmey. However, in June 2015 the Phnom Penh Municipal Court dropped charges against four of the community members, with presiding judge Tob Chhum Heng citing irregularities in the 1999 land transfer document that Tonmey was using as justification for tearing down the six houses.

In November 2014, then Russey Keo District Governor Khlaing Huot ordered the villagers of Boeung Chhouk to leave with no compensation offered. Just over a month later, a mysterious fire ripped through the commune, destroying the houses of 50 families.

By March 2018, the Russey Keo district authorities were back again, this time threatening to evict those who wouldn't relocate to make way for a new road. The situation has remained fluid for some time.

Touch Sam On explained that since then, Boeung Chhouk has been divided into smaller and smaller chunks—hence his community being Boeung Chhouk A. He believes this is a tactic the authorities have employed to ensure that the demolition of their homes goes smoothly.

Many of these issues stem from the 2002 Cambodia Land Management and Administration Project (LMAP), which was led by the World Bank with the Ministry of Land Management acting as the implementing authority. The project ran seven years before it was eventually canceled and derided as an abject failure. By 2009, the Cadastral Commission established within the ministry had failed to resolve 65 percent of the land disputes brought to it. By 2011, 42 percent of rural Cambodians owned either no land or up to 0.5 hectares, according to the Asian Development Bank, who provided an independent assessment of the project.

It wasn't until 2011 that the World Bank assessed the impact of its own project and found that its failures had directly contributed to the forced evictions of more than 20,000 people from Boeung Kak. Judged by its own inspection panel, the World Bank established that the LMAP had arbitrarily excluded the poor and the vulnerable due to operational procedures—a mistake compounded by the project's failure to implement a framework for relocation and compensation.

Rights Abuses Found

The plight of the community at Boeung Chhouk A is one the Ministry of Land Management, Urban Planning and Construction is apparently unwilling to discuss.

Secretary of State Leang Monirith declined to comment, deferring to the ministry's spokesperson—Seng Lot, who in turn said that he was too busy to discuss the matter and that he would remain busy for the foreseeable future. Similarly, Boeung Chhouk Commune Chief Sdang Manith explained that he does not need to speak to the media, while Phnom Penh Governor Khoung Sreng could not be reached for comment, despite multiple attempts to contact his office.

Only Russey Keo's Deputy District Governor Bray Seyha agreed to meet and explain the situation.

"It's not an eviction, we're just moving them from there to here," said Seyha, motioning from Boeung Chhouk A to the empty plot of water-logged land in front of him.

"Each family will get a 4 meter by 15 meter plot of land," he added, but could not clarify when or if houses would be built for the families.

Currently, the land remains unoccupied, although Seyha said that some 177 families from the area had already agreed to move there over the course of June 2020. The reason that the 22 families of Boeung Chhouk A must leave their homes is apparently due to the expansion of a road—one the district authorities intend to run right through Sam On's community.

"I haven't heard any complaints from any of the communities affected, so they must accept it—we've told them three times already," said Seyha, although he said he couldn't remember when.

Sam On said that the community met with the district authorities to submit a complaint on June 22, but he was unsure whether this qualified as a formal complaint. Cambodia has made small steps towards establishing a dispute mechanism for evictees with the introduction of Circular 03, but while STT says the circular has potential to bring the nation's eviction process in line with best practices, its report notes that it remains an explanatory note rather than a law.

This is perhaps one reason why Seyha had not heard of Circular 03—as is often the case with local level authorities implementing the will of the national government. Circular 03, STT noted, needs to be amended, disseminated and signed into law for real progress to be made in settling land disputes.

According to STT, it was only on June 20, 2020, that the authorities consulted the entire community of Boeung Chhouk A. It is unclear exactly how many had been informed beforehand or when, but STT stated that 13 households had received no prior consultation when the district authorities arrived with bulldozers. Even then, they were given just 15 days' notice for eviction—a length of time that falls well short of the 90 days that human rights guidelines on eviction require.

Out of the 68 communities assessed by STT, 29 were given less than 90 days' notice before eviction—one community was given less than a day to abandon their homes.

Cambodia is signatory to a number of international conventions, many of which recognize the right to housing as fundamental. While these conventions don't detail a step-by-step process for conducting evictions in a way that respects human rights, they do frequently note that relocation packages must include a house to move into.

This doesn't appear to be on the cards for the community at Boeung Chhouk A, but Seyha appeared unfazed by this conundrum.

"Even though they've been living there a long time, they cannot own public land—this is a very good opportunity for them to get land titles," he said.

He noted that compensation packages would include between $100 and $300, as well as some rice, but only if the communities could prove they were poor enough to qualify for rice. At the mention of STT's report, he scoffed, replying that the non-governmental organization only wants to make people angry. This ended the conversation and Seyha drove off in a sleek black Mercedes.

Into Landless Limbo

On July 1, Sam On went to submit a formal complaint with Phnom Penh's City Hall, which he said he had received permission to do from the commune chief. The relocation, he maintained, is not adequate for his family or his community.

"They promised water, electricity, something livable, but now it's still just land—people are already leaving it because it's completely unlivable," he said.

As of July 6, he had not heard back from City Hall, but his home was still standing—for now—so he remains in limbo, landless and hopeless.

Executive Director of STT Soeung Saran has asked to end to all evictions during the Coronavirus Disease 2019 (COVID-19) pandemic.

"The world is suffering because of the current pandemic and the poor people of Cambodia are some of the worst hit," Saran said in a statement. "Many poor families have lost jobs and have greatly decreased incomes because of COVID-19. STT calls upon the Government to show compassion and cease all evictions until the COVID-19 pandemic and its effects have completely ended."

Their report recommended that the government clarify existing legislation on the boundaries of public property, as well as ensuring that communities likely to be evicted or affected are consulted. For the sake of transparency, STT have requested the creation of a database listing all public land throughout Cambodia so that communities are better able to establish what is and is not state-owned land.

Moreover, they call for an improvement of legal provisions for communities facing eviction as none of the Boeung Chhouk A community members could afford legal counsel. And STT urged the government to reassess and clarify its eviction processes, and to consult with communities rather than intimidate them with legislation.

Despite multiple attempts to contact him and establish whether the government agrees with these requests, Seng Lot—spokesman for the Land Management Ministry—could not be reached.
Related Articles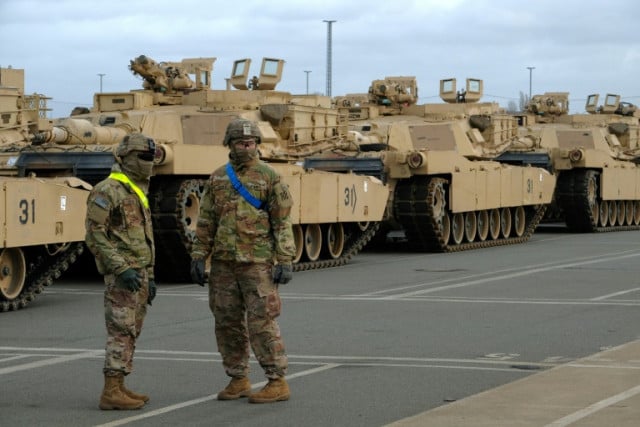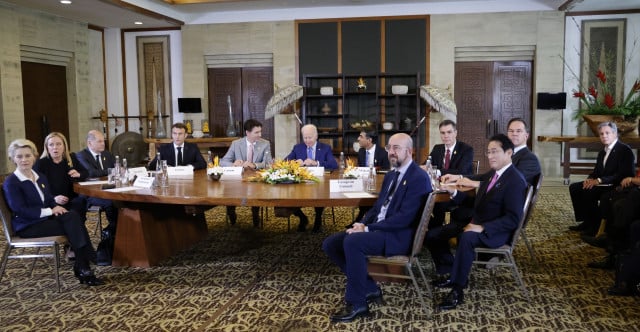 November 16, 2022 8:57 AM