Debt Fear as Hun Sen Cements China Ties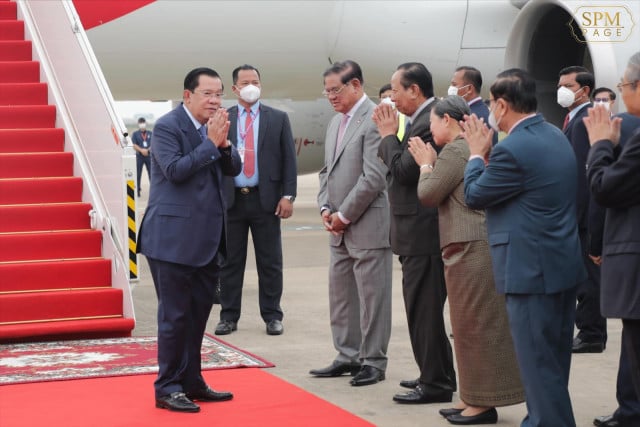 February 9, 2023 11:13 AM
PHNOM PENH – Prime Minister Hun Sen left on Feb. 9 for a three-day official visit to China, with analysts offering conflicting prospects for the visit in relation to Belt and Road Initiative (BRI).
Cambodia take effective advantage of the program and strictly control the public debt, it is suggested.
Hun Sen will meet Chinese President Xi Jinping, Premier Li Keqiang and top legislator Li Zhanshu. His last visit to Beijing was in February 2020 after the COVID-19 outbreak started to spread.
Seun Sam, a policy analyst at the Royal Academy of Cambodia, said it was the ideal time for Hun Sen to visit China given that he was the only one to visit China during the first COVID-19 outbreak and would be the first country's representative to visit after China reopened its border.
Cambodia is trying to deepen its relationship with China for economic and security interests, he said, pointing out that China is a potential development partner for Cambodia.
"Having good relations with China is very important for Cambodia and all ASEAN countries because China is the first business partner of all ASEAN countries," Sam said.
"China has huge business potential and a big impact on security and the economy. Why should Cambodia not have good relations with the good one?"
Cambodian-American political analyst Ear Sophal said the visit is a way to pay respects to China as an ironclad friend to ensure that the relationship remains for many years. However, the timing is unfortunate given China's spy balloon incident with the US.
"The timing of the visit is unfortunate, but the PM will not cancel on account of this. This visit is too important," he said.
In early January, PM Hun Sen revealed that he aimed to seek support from China on new infrastructure projects such as the second highway connecting Cambodia to Vietnam and the first high-speed railway, causing public concern about the increased debt to China.
Seun Sam said debt should not be the topic of discussion for this visit as the government should be able to pay back the debt if used effectively. The most crucial things Cambodia requires now are to build a more capable infrastructure.
"I support the Cambodian Government to take more loans to construct more infrastructure but those loans should be used concisely and effectively and in the right direction with no corruption," he said.
"All countries in the world are in debt but they are able to manage those debts to gain the benefits."
As of 2022, Cambodia had a total public debt of $9.9 billion, of which 41 percent was owed to China, according to a briefing supplied with the Law on Financial Management for 2023.
Foreign Ministry spokesman An Sokkhoeurn said on Feb.6 that the rail project would not be supported by loans. This project paves the way for investment in the form of BOT (Build, Operate and Transfer).
"The Royal Government does not intend to borrow too much from abroad. The Royal Government is strict in managing foreign debt and prioritizes only urgent and necessary infrastructure projects such as roads," he said in a response to a VOA article about Cambodia seeking more financial aid from China.
Ear Sophal, however, remained doubtful about the debt. He said owing too much to a particular country means being dependent on that country for survival, warning that the vulnerability of Cambodia stems from its debt to China.
Diversifying this debt was needed for good governance, Sophal said.
Belt and Road Initiative
Cambodia embraced the Chinese Belt and Road Initiative — a $4 trillion investment in building supply chains around the world using ports, roads, and trains as well as related operating systems and infrastructure — in 2013. China provides labor when local skills are not available, mostly on a BOT basis.
Seun Sam of the Royal Academy said BRI is both a good dream and a nightmare for Cambodia. "The BRI project is very important for the development in Cambodia but Cambodia needs to ensure it will use the infrastructure of the BRI project in effective ways," he said.
Ear Sophal said even though the levels of debt sustainability are currently acceptable, there is always a risk of this in the future.
"The reason is that high growth is assumed, but what if that high growth is not assured?" he said, warning a serious debt situation could stem from sharp borrowing from China for development.
"We must never forget that the BRI is about borrowing, it's not free," Sophal said.
Time to draw out friendship
Asked whether it is an ideal approach for Cambodia to build a close tie with China and a shared future, Seun Sam said Cambodia aspires to have positive relations with all nations, not only China. Japan, the US, the EU, and the ASEAN nations all have positive relations with Cambodia.
"The only problem right now is that many people are worried too much about China and they are always worried about everything related to China," he said. Cambodians should know where benefits come from.
Chinese Foreign Ministry spokesperson Mao Ning said, historically, China and Cambodia have been close neighbors and unbreakable friends. The friendship established by the elder leaders of the nations, has endured and strengthened over time.
"China hopes to take this visit as an opportunity to push for even greater progress in the building of the China-Cambodia community with a shared future and carry forward the China-Cambodia friendship from generation to generation," she said.
Regarding the idea of a community with a shared future, Sophal questioned both governments' intentions, pointing out that the two countries share no border or language while Khmer people are not ethnically Chinese.
Related Articles