Defense official seeks calm over planned reform of military ranks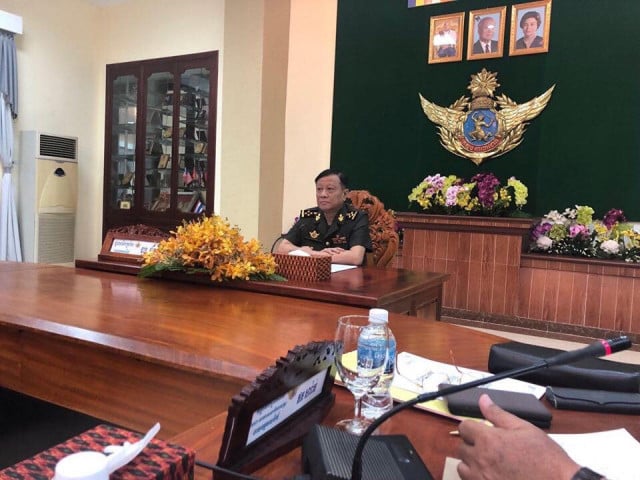 Thmey Thmey
May 2, 2019 10:13 AM
Phnom Penh, Cambodia--A senior official of the ministry of defense, on Thursday, dismissed as a rumor a recent news report claiming that the government was embarking on another round of reform aimed at substantially reducing the number of generals within the military ranks.
"It was false, the rumor that the Ministry of National Defense is planning to demote the ranks of senior military officials. I ask that all senior military officials not be agitated by a mis-characterization of the royal government's intent to reform the Royal Cambodian Armed Forces," Gen. Chhum Socheat, the ministry's spokesman, said on his Facebook page.
He was quoting Gen. Neang Phat, a secretary of state of the Ministry, as telling a monthly meeting of senior defense officials.
While attending a Belt and Road Forum in Beijing, China, last week, Prime Minister Hun Sen was reported to have made an order to slash the number of four-star generals, starting from army commanders first.
It was estimated that Cambodia had more than 3000 generals in armed forces, according to Phnom Penh Post's report in 2017.

The prime minister said that the current four-star generals should have their ranks downgraded to three stars, except for Defense Minister Tea Banh and Gen. Vong Pisen, commander-in-chief of the armed force.
No decision has been made by the government yet on how to proceed with the reported reform of the military rank, Gen. Chhum Socheat told ThmeyThmey last week.
On Thursday, he quoted Gen. Neang Phat as saying that there will be no demotion as early reported. However, "the reform of the rank within the armed forces is part of a long-term, step-by-step strategy aimed at building a quality and effective army … consistent with the development of the situation domestically and on international stage. There will be not deduction or demotion as has been falsely reported at all," Gen. Chhum Socheat said, quoting Gen. Neang Phat.
Related Articles