Delta Cases Mount Among Incoming Travelers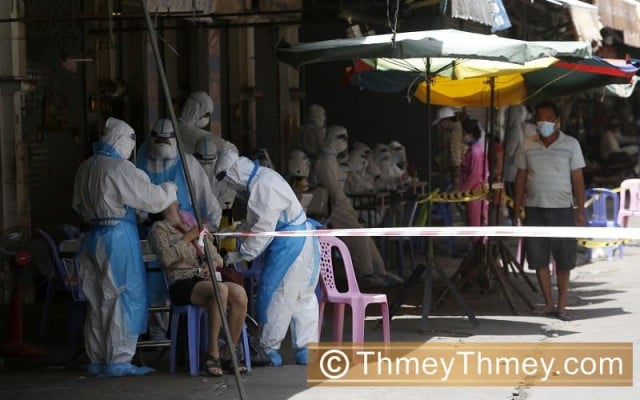 Health Minister urges changes in lifestyles
PHNOM PENH--Another 67 cases of the coronavirus Delta variant have been detected in Cambodia, bringing the total cases of the mutant strain to 326 as of August 6, the Health Ministry says.
The Institut Pasteur du Cambodge (IPC) said 32 cases were detected on August 4, of which 31 were imported from travelers arriving in Cambodia by plane. The other was a trader at Tuol Sangke market in Phnom Penh.
Another 35 cases were found on August 5, two of which were air passengers, nine were migrant workers and 24 were community cases.
The ministry said the Delta variant has been invading the community, especially in Oddar Meanchey, Phnom Penh, Siem Reap, Preah Vihear, Kampong Cham, Kampong Thom, and some other provinces.
Health Minister Mam Bunhneng is urging Cambodians to be cautious and change their lifestyles in line with the slogan, "Learn to live normally with Covid-19, in a new way to combat against the Covid-19 disease."
As of August 5, 7,810,469 people, including 187,806 children and adolescents, had received their first dose of the vaccine while 5,317,839 people had both doses.
This means Cambodia has vaccinated 73.13 percent of its target population of about 10 million. Among those aged 12 to 18, 10 percent of the target population of about 2 million have been vaccinated.
Cambodia will use AstraZeneca to boost the immunity of people who have been vaccinated with the Sinopharm or Sinovac vaccine.
Prime Minister Hun Sen says it will be used as a third dose or booster shots for front-line health workers and people in provinces along the Thai border who are dealing with the spread of the Delta variant.
As of August 5, Cambodia had recorded 80,813 Covid cases with 74,045 people having recovered. The disease has claimed the lives of 1,526 people.
Related Articles