Dolphin Death Brings This Year's Toll to 3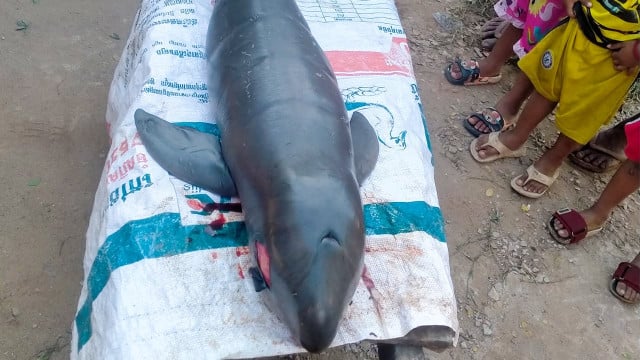 PHNOM PENH – A Mekong River Irrawaddy dolphin calf was found dead on Aug. 9, bringing deaths of the critically endangered species to three this year. The two-month-old calf was tangled in a fishing net in Kandal province's Peam village.
It was believed to have been traveling with its mother or other dolphins from the upper stream of the Mekong River in Stung Treng and Kratie provinces to Kandal province to hunt for food, the Ministry of Agriculture, Forestry and Fisheries (MAFF) said.
During the high-water season, dolphins travel out of their canyons to follow the schools of fish on which they feed. Calves stay with their mothers and are breastfed for about a year before going independent.
Ninety dolphins lived in the 180-kilometer-long protected areas in the Mekong River in Kratie and Stung Treng provinces as of 2022, MAFF said.
Since then, five dolphins have been identified, of which three were dead, bringing the total to 92. The first death was in March and the second was in June.
More than 70 percent of the Mekong dolphin population is more than 20 years old, making them incapable of breeding. Irrawaddy dolphins have a life expectancy of 27 to 30 years.
The Mekong Irrawaddy dolphin is listed as critically endangered on the red list of threatened species by the International Union for Conservation of Nature.
In February, PM Hun Sen issued a new decree designating 120 kilometers of the Mekong as protected zones where fishing is prohibited.
However, in April, he revoked the directive because thousands of fishing families were adversely affected while dolphins kept dying. Small-scale fishing is allowed in the protected area, but large-scale fishing and electrofishing are still prohibited.
According to WWF, 11 dolphins perished in 2022, increasing the three-year total of dolphin deaths to 29.
A new dolphin population tally is to be carried out by October 2023 by WWF and the MAFF's Fisheries Administration.
Related Articles