DPM Sar Kheng Calls for Compromise and Patience to End NagaWorld Strike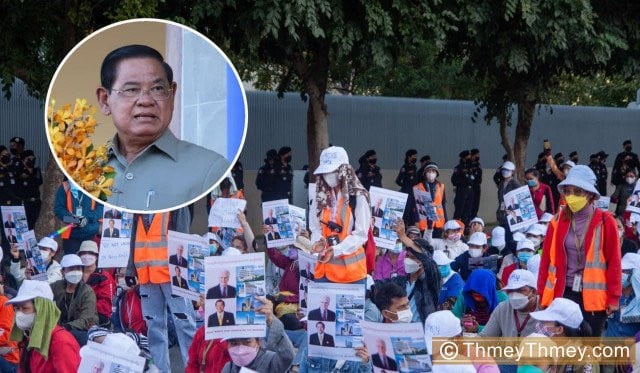 After numerous failed efforts from the Ministry of Labor and the jailing of the NagaWorld union's elected representatives, Deputy Prime Minister Sar Kheng has called for a peaceful solution to the dispute
PHNOM PENH--Deputy Prime Minister and Minister of the Interior Sar Kheng weighed in on the NagaWorld strike for the first time on Jan. 25 where he called for the Ministry of Labor's Labor Dispute Resolution Committee to compromise and remain patient in order to end the dispute peacefully.
Kheng was speaking at a police vehicle hand-over ceremony in Phnom Penh when he urged authorities to seek a peaceful solution to the NagaWorld strike which has been marred by police violence and arrests since the strike began on Dec. 18, 2021.
After 1,329 workers were dismissed from the gambling giant in April 2021, the casino's union has accused the Hong Kong-listed company of targeting union members and leadership in the layoffs—as many as 1,100 of those who lost their jobs were unionists according to the International Trade Union Confederation.
Now, with some 360 former employees demanding reinstatement and hundreds of others requesting the company abide by the Arbitration Council's non-binding ruling to pay compensation that's in line with the Labor Law, the Ministry of Labor has so far failed to find a solution.
Instead, 30 people have been arrested since New Year's Eve, including union president Chhim Sithar, with all but eight of those detained since released. Eight leaders of the Labor Rights Supported Union of Khmer Employees of NagaWorld (LRSU), including Sithar, remain in pre-trial detention on charges of incitement and could face up to two years in prison if found guilty.
NagaWorld issued a rare public statement on Jan. 24, claiming that the pandemic had resulted in a net loss of $77 million in the first six months of 2021 and denied targeting union members for layoffs.
Kheng called for all relevant parties to step up their efforts in resolving the strike.
"Try to find a way to finish [the dispute]—the sooner the better. If you turn your back on each other, it will not end. If we can gently turn to face each other, maybe we can find a solution," Kheng said, adding that he has been advising Labor Minister Ith Samheng and judicial police officers to seek a peaceful solution.
"And if there is no solution, [you] may file a lawsuit or sue in accordance with the law. For example, if there is a law on this issue, we will solve it accordingly," he said.
At least five rounds of negotiations have so far resulted in little progress, but the violent arrest of LRSU's leadership has further entrenched the positions of striking workers, who have added the release of the eight leaders to their list of demands.
"It's good to see Sar Kheng recognizes that the dispute at NagaWorld is a labor dispute and that he hasn't sought to politicize the issue as being part of a color revolution," said Patrick Lee, a legal consultant with labor rights group CENTRAL.
Numerous government officials have attempted to paint the NagaWorld strike as part of a foreign-funded attempt to overthrow the government, including Labor Ministry spokesperson Heng Sour, who partially retracted his remarks shortly after making them.
However, anonymous Facebook accounts have also pushed the color revolution theory, the posts from which were then picked up by government-mouthpiece Fresh News, despite the factual inaccuracies that the posts were quickly found to be riddled with.
Lee echoed Kheng's appeal for a swift resolution to the dispute which has seen current and former NagaWorld employees conducting a strike in various parts of the city after police repeatedly blocked their access to the casino.
"However, this can only be achieved if the eight imprisoned LRSU leaders and activists are immediately and unconditionally released and NagaWorld returns to the negotiating table with an acceptable resolution for those workers still demanding reinstatement," said Lee.
"A resolution will never be achieved so long as these workers' representatives are languishing in prison," he added.
Related Articles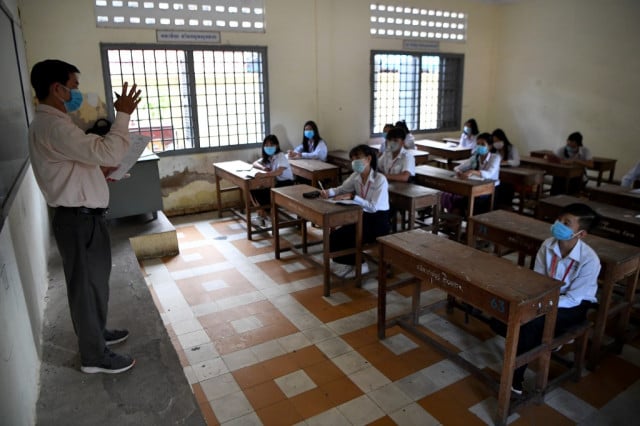 September 23, 2020 10:59 AM