Ecotourism Promoted as Cambodia Reopens to International Visitors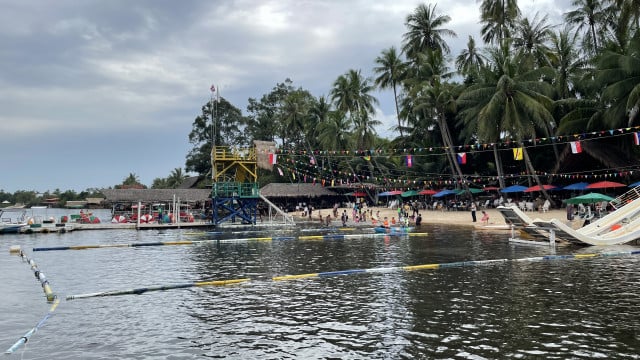 Announcements from the Health Ministry and the Foreign Affairs Ministry have buoyed hopes of a battered tourism businesses, which plan to pivot to ecotourism to limit the spread of COVID-19
PHNOM PENH--Following the Health Ministry's announcement on Oct. 16 that saw Cambodia's quarantine regulations relaxed somewhat for vaccinated arrivals, the tourism sector is making a push for vaccine tourism, with a view to promoting ecotourism destinations.
The move was bolstered by the Foreign Affairs Ministry's announcement on Oct. 19 that e-visas for tourists could once again be applied for online, allowing international visitors to stay for 30 days within a three-month period for $30. This comes after Cambodia cancelled the issuance of e-visas and tourist visas on arrival in March 2020, effectively damming the flow of international visitors and leaving the tourism industry to stagnate as the country grappled with COVID-19.
But with vaccination rates rising rapidly across Cambodia, the tourism sector is optimistic—especially after the Ministry of Health reduced mandatory quarantine periods for fully vaccinated travelers from 14 days to seven, while investors or experts can spend just three days quarantining upon arrival. It is unclear what risk assessment found investors are less likely to spread COVID-19.
Unvaccinated travelers or those who are not yet fully vaccinated still need to quarantine for 14 days when entering Cambodia. The full list of conditions for new arrivals has been released by the Ministry of Health.
Chhay Sivlin, president of the Cambodia Association of Travel Agents, said the industry is gearing up to promote Cambodia's ecotourism sites to foreign tourists—these sites allow for greater social distancing and help reduce the risk of COVID-19, she said.
"We have already discussed about creating tourism packages in natural areas, even historical places or heritage sites are also checked," Sivlin said.
"Previously, the roads [to many natural tourism sites] were difficult to travel along and local services were still inadequate. However, through promoting local tourism services, we have seen some improvements, which is good enough to introduce to foreign tourists," she said. "We want to focus on ecotourism areas because the Ministry of Tourism has been fixing infrastructure recently."
Sivlin also added that the promotions will also be aimed at domestic tourists in the hope that a shift to ecotourism will create more sustainable jobs for local communities and reduce the risk of COVID-19 throughout the sector.
One such resort hoping to benefit from the change in Cambodia's rules on inbound travelers is the Chi Phat Community-based Ecotourism resort in Koh Kong Province.
A representative for the resort, which is run by NGO Wildlife Alliance, said that the government's recent announcements were "great news for the country's tourism sector" and that Chi Phat was ready to welcome back both national and international tourists.
"We already set up domestic tour packages with cheaper prices and we also informed the community to open to our partners. Fixing our forest trails, we also developed and upgraded our services through community members," the resort's representative said.
"More importantly, [we also] propose to our members to [follow] social distancing rules for our safety and tourism data recording to prevent from COVID-19," they added.
Top Sopheak, a spokesperson for the Ministry of Tourism, said the ministry was cooperating with local authorities across the country and has been working to ensure that provincial administrations recognize the importance of safety measures to curb the spread of COVID-19.
"As for the preparation of tourism services, we, the tour operators, are ready to welcome the tourists as we have seen, especially during Pchum Ben holiday, there were many domestic tourists traveling to the tourism destinations within the country," Sopheak said.
"Therefore, the preparation is making good progress to welcome tourists," he added.
Related Articles