Election Turnout Reaches 56 Percent Before Noon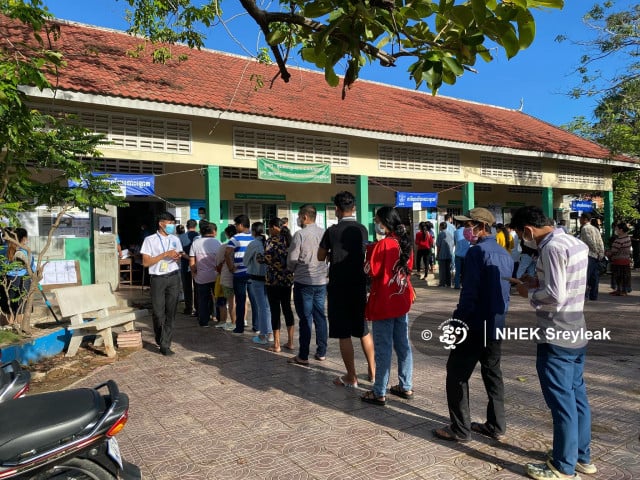 Kem Sokha rejects chance to vote
PHNOM PENH – Around five million people voted in the commune and sangkat election on June 5 as of 11:30 am.
"Around 5,170,466 or equal to 56,17 percent of the registered voters have already voted across the country," said Hang Puthea, spokesperson of the National Election Committee (NEC).
The overall environment remained good, people were happy to go to vote, and no complaint had been received so far, he added.
Polls opened at 7 am and were due to close at 3 pm.
Over 9 million people registered to vote for one of 17 political parties taking part in the elections, according to the NEC. Of these, 3,886,000 are aged between 18 and 35, accounting for more than 46 percent of registered voters.
Turnouts reached 90,37 percent in the 2017 commune elections.
Prime Minister Hun Sen, who is the head of the ruling Cambodian People's Party (CPP), and his wife made an early start to cast their votes in Takhmau city in Kandal province.
The Prime Minister didn't say anything to the press following his vote.
Former opposition leader Kem Sokha doesn't vote
Former president of the now-disbanded Cambodia National Rescue Party (CNRP) Kem Sokha did not vote, according to his aide.
"There were no choices for him to vote for," Mut Chantha said.
Kem Sokha has been on trial since Jan. 2020, charged with treason for allegedly conspiring with foreign countries to oust the government.​ However, despite being unable to run "any political activities" during his trial, the former opposition leader still has the right to vote.

Sao Phal Niseiy contributed to the story
Related Articles