FIFA World Cup Trophy to Arrive in Cambodia on June 15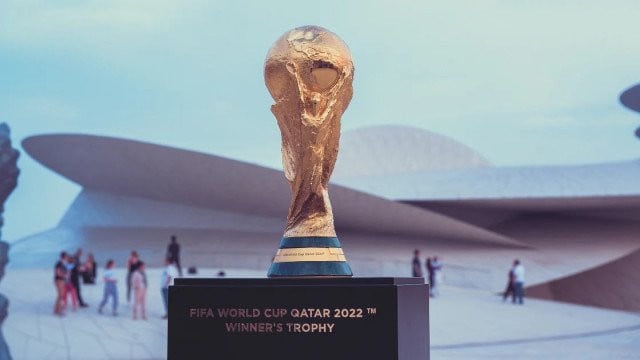 It will be the first time the golden trophy parades in the Kingdom
PHNOM PENH – The prestigious World Cup Trophy Tour will officially arrive in the Kingdom via private jet on June 15, according to a May 27 statement released by the National Olympic Committee of Cambodia and Coca-Cola, the Trophy Tour main's sponsor.
According to the release, the Cambodian government–through NOCC and Cambodia Beverage, the local division of the worldwide Coca-Cola Company–is ready to welcome the FIFA World Cup Trophy, when it arrives in Phnom Penh next month as part of its tour.
This will be the first time the trophy, made of 6.142 kilograms of solid gold depicting two human figures holding the globe aloft, will be passing through Cambodia. It aims to celebrate the World Cup tournament which will run from Nov. 21 to Dec. 18 in Doha, Qatar. Cambodia is already prepared to march the trophy across the capital.
The June 15 World Cup Trophy parade will travel from Phnom Penh International Airport to the Peace Palace and be welcomed by Prime Minister Hun Sen.
A welcoming ceremony and multiple photo sessions with the trophy will then be held at Morodok Techo National Stadium from 1 p.m. to 10 p.m. with a live concert.
NOCC called on all Cambodians and football supporters to participate in the event and celebrate the arrival of the FIFA World Cup Trophy, saying the event would be a historic one.
The FIFA World Cup Trophy Tour by Coca-Cola kicked off on May 12 in Dubai and will stop in 51 countries and territories.
Related Articles