First Woman in Cambodia Awarded Real Estate Personality of the Year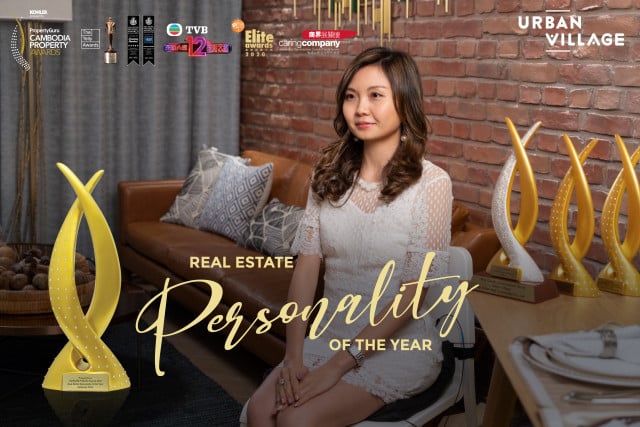 The Executive Director of the most Award-Winning condo projects, Urban Village & Factory Phnom Penh, and Director of Goldfame Group, the largest Hong Kong development in Cambodia, Catherine Chan, was the first woman in Cambodia to receive the Real Estate Personality of the Year award by PropertyGuru Cambodia Property Awards during their 6th annual virtual event on November 12th, 2021.
Catherine Chan, who graduated from the London School of Economics and Political Science and becomes a Hong Kong Certified Public Accountant, has extensively worked in the textile business in Cambodia since 2010. After a massive success in the garment industry of Goldfame Group, the global top 5 largest manufacturers, she has noticed a good opportunity in Cambodia's real estate industry. Currently, Catherine holds some of the top positions in various firms, such as Director of Goldfame Group, Executive Director of Urban Village, Factory Phnom Penh, an honorable Chairlady of Cambodia Chinese Commerce Association and the Honourable President of the Association of Agricultural International Cooperation of Hainan Province.
Provided by the editorial team of PropertyGuru Property Report magazine, the Cambodia Real Estate Personality of the Year is one of the top outstanding awards presented to an individual who has made significant impacts in Khmer real estate.
"This award means a lot to me and Cambodia. We have told the world that Cambodia can also have world-class projects like Urban village and Factory Phnom Penh. Despite the pandemic, we are the only project to complete during the pandemic, which is our Urban Village Phase I," Catherine said.
"We are now developing Urban Village Phase II; this project is even more upgraded; we have upgraded our team. We have used the world-class construction team, including China construction, engineering consulting—Buro Happold, and structure consulting—Meinhardt."


By winning this prestigious award, Catherine has proven that women can equally accomplish and produce outstanding contributions to this male-dominant industry. Real estate in Cambodia has been vastly dominated by male counterparts.
She added, "Working hard and dedication are the keys to success. The success of Urban Village is a great example of hard work."
When asked why investing in Khmer real estate, she enthusiastically responded, "Cambodia is a country with a very favorable and attractive investment environment. We came to Cambodia over 25 years ago. The reason is that Cambodia is the only country in Southeast Asia that allows USD as the functional currency."
Not only that, Catherine continued, Cambodia also has preferential trade agreements with other countries, including the European Union.
She said, "Whenever you export to the European Union, America, Australia, Japan, and China, you have the free duty. Because of this favorable investment environment, a lot of foreign direct investment has come into Cambodia, bringing in a lot of expatriates.
Like Goldfame Group, we have 30,000 employees in Cambodia, including over 100 expatriates. Therefore, the demands of the property have been growing, especially in this recent year as well. We see that there is a huge demand in the city that is why we started to invest in Khmer Real Estate."
Urban Village and Factory Phnom Penh are the most award-winning projects in Cambodia. The projects have won 26 awards in total since 2019, including some of the most prestigious awards, such as "Best Condo Development in Cambodia," for two consecutive years "Best Co-working space in Asia" Cambodia' ONLY award "Best Condo Development in Asia," "Best Mixed-use Development Cambodia" and "Best Mixed-use Architecture Cambodia." After a huge success of selling out more than 1300 units, Urban Village Phase II is launching New 1-bedroom unit in block E starting FROM $15/day.

For more information: https://www.facebook.com/urbanvillagephnompenh
Related Articles