Floods: the Death Toll in Cambodia Rises to 10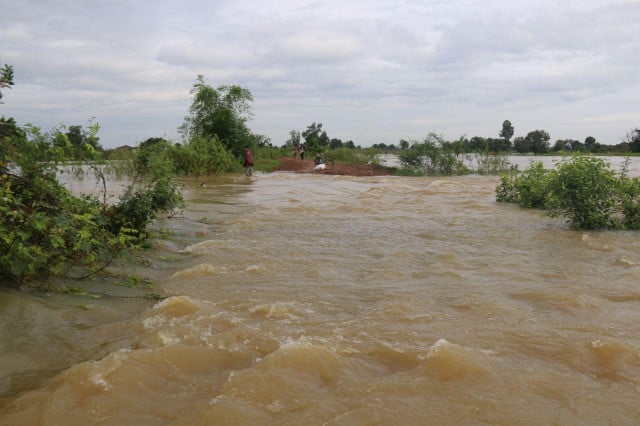 Sao Sokeng
October 11, 2020 10:17 AM
Thousands of people have been displaced due to the rainfalls
PHNOM PENH--At least 10 people have died in flash floods since Oct. 1 as heavy rains have been falling over the country, a Cambodian official said on Oct. 11.
"At least 10 people have died in flood-hit provinces across Cambodia," said Khun Sokha, a spokesperson for the National Committee for Disaster Management, in a phone interview.
Sokha said that he could not at this point give more details on the victims or say in which provinces they had lost their lives as he still was gathering information from the local authorities. However, based on the initial information he had received, three of the victims were in Banteay Meanchey Province, he said.
Lao Sampor, deputy head of the Banteay Meanchey Provincial Information Department, confirmed that three people had drown in his province. One of the victims was a 10-year-old girl, the second one an elderly person with a mental handicap, and the third one an older person who drowned while fishing.
During an interview on Oct. 10, Sokha said that Phnom Penh and nine provinces—namely, Banteay Meanchey, Battambang, Kampong Chhnang, Kampong Speu, Kandal, Pailin, Pursat, Svay Rieng and Takeo provinces—have been affected by floods due to the heavy rains falling since Oct. 1.
The floods also have displaced more than 14,000 people, with more than 700 people having to be evacuated. In addition, the floods have damaged more than 10,000 hectares of paddy fields and more than 30,000 hectares of mixed crops.
Asked about the situation as of Oct. 11. Sokha responded that the flood levels in Banteay Meanchey, Battambang, Kampong Cham and Pursat provinces had started to decrease. However in Pailin Province, the water level has not yet decreased, he added.
Related Articles