Pailin Longan Exports Set for China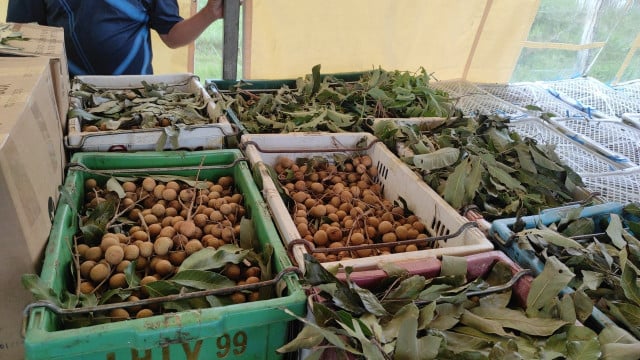 PHNOM PENH – Exports of longan to China could take place by September at the latest, a senior Agriculture Ministry official says.
Ngin Chhay, director-general of the General Department of Agriculture (GDA), confirmed that Pailin longan had been rated by the General Administration of Custom China (GACC) as best quality fruit in Southeast Asia, given farmers' compliance with Good Agricultural Practices (GAP).
"Therefore, I hope that there will be no more problems or obstacles in exporting the fresh Cambodian longan to China this September, while the eight packaging plants are ready to comply with export regulations and standards," Chhay said while speaking of the achievements of the past five years of the Ministry of Agriculture, Forestry and Fisheries on July 19.
China Jinan Engineering Import Export (Cambodia) and Pailin Longan Community have signed contracts for orders from Pailin, Battambang, Banteay Meanchey and Pursat provinces.
The wholesale price of Pailin longan for the Chinese market ranges from 3,300 to 4,500 riels per kilogram, said Sar Chamreoun, a council member of Pailin Longan Community.
Chamreoun said, "The price is similar to that of Thailand, however, this direct export to China is free of import service charges and marked as Cambodian products, unlike the product exported to Thailand."
If the agreement between the governments allows exports to speed up, as expected, the Chinese company would enter into more contracts with farmers, providing many benefits.
"I think this export helps farmers a lot. First, the price from the company to farmers is acceptable. Second, it helps pay off the farmers' debts borrowed for farming. When there is an agreement with the company, they will give us an interest-free loan and buy the product from us."
Two types of longan are to be exported, fresh and processed.
According to the report of the GDA, for the first five months of 2022, Cambodia exported 4,616,448 tonnes of agricultural products, of which 106 tonnes of fresh longans were exported to Vietnam.
The latest ministry figures show that Pailin longan cultivation has covered 13,608 hectares in 14 provinces – mostly in Banteay Meanchey, Battambang, Pailin and Ratanakiri with many farmers involved.
Veng Sakhon, Minister of Agriculture, Forestry and Fisheries, on July 15 encouraged the private sector and development partners to jointly invest in local agricultural processing to increase market value and competitiveness.
The processing should ensure the sustainable use of local raw materials, especially to increase prices and improve quality, hygiene, safety and competition standards, he added.
Related Articles