From Piggy Bank to Saving Accounts: Cambodian Youth Seduced by Digital Banking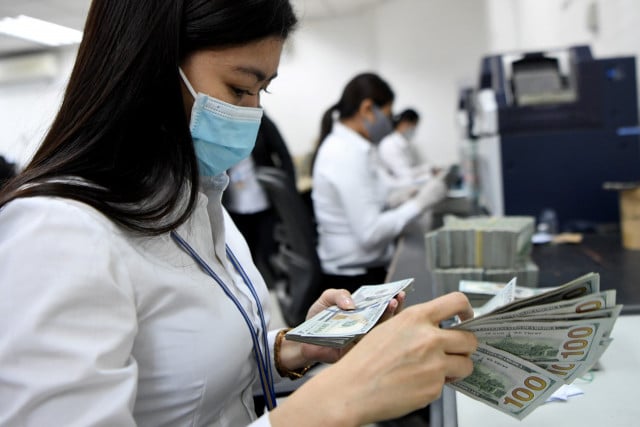 The number of bank accounts rose from 1.4 million to 6.2 million in eight years
PHNOM PENH – Saving money in the digital age is a piece of cake for young people, says In Channy, a council member of the Association of Banks in Cambodia (ABC). Yet there are also downsides, especially regarding spending attitudes.
According to Channy, traditional savings, as it used to be done in the past by storing cash at home, is declining in Cambodia, while opening bank accounts is on the rise.
"In 2012, there were 1.4 million bank accounts in Cambodia. But their number increased to 6.2 million in 2020," he said. "For the young population [under 30 years old], the number of account holders rose from 250,000 in 2017 to 2.3 million in 2022."
The use of bank and microfinance accounts to cover daily expenses and save money is a new trend in Cambodia, as people had little access to financial literacy in the past.
The boom of digital devices across the country partly explains this rise. In 2019, there were 15.9 million broadband subscriptions to the Internet in the country of 16 million, and the number of mobile-cellular subscriptions accounted for 129.9 percent of the population, meaning that some people had more than one mobile-cellular subscription, according to a report issued by the National Bank of Cambodia.
Pen Bopha, CEO of Rithipul, a consultancy dedicated to financial education, said that, 10 years ago, Cambodia did not have a sufficient record to monitor expenditures or savings as the country didn't have access to smartphones. Back then, people were using envelopes to keep their money. She also recalls that, when she was a child, not many people had any education in finance, except for those who were running a business.
Traditionally, Cambodians used to buy gold, cattle or properties as saving assets, she added. In contrast, in today's society, most young people save their money in bank or microfinance accounts as they have access to advanced technology.
But with wider products or services available to spend their money on, their financial management can be negatively impacted, Bopha said. Young people should better calculate their daily expenses and measure them in regard to their income. Besides, they should implement a monthly budget and be self-disciplined if they don't want to fall into indebtedness.
Similarly, Pich Pong Ponhearith, General Manager of Twd. and the owner of Kakcent, a Facebook page that aims to enhance Cambodians' financial literacy, said the spending options of young people in the digital era are now very diverse. For him, the cumulating effects of globalization, the rise of productivity and the convenience of online retail, increased the opportunities of spending.
Nget Minea, a student at the National University of Management and an employee at One Café, shares this opinion. With his job, the student earns one million riels (around $244) every month, which he uses to pay his rent, water and electricity bills, school fees, and daily living expenses. But his income is barely enough to meet his needs. To start saving money and not spend all of his wages with no expenses record, he decided to open a bank account recently.
Tan Chansovan Monineath, also an employee in a coffee shop, also chose to save money through a bank account. She receives a salary of 760,000 riels (around $185) per month. She gives a part of this money to her family and saves the rest on her account, while most of her expenses are dedicated to food and transportation to work.
In Channy from ABC is confident that the number of saving accounts users will keep on increasing in the future. In the past years, the number of bank accounts increased by 20 percent year on year.
Related Articles