German Ambassador Praises Meeting Between Hun Sen and Kem Sokha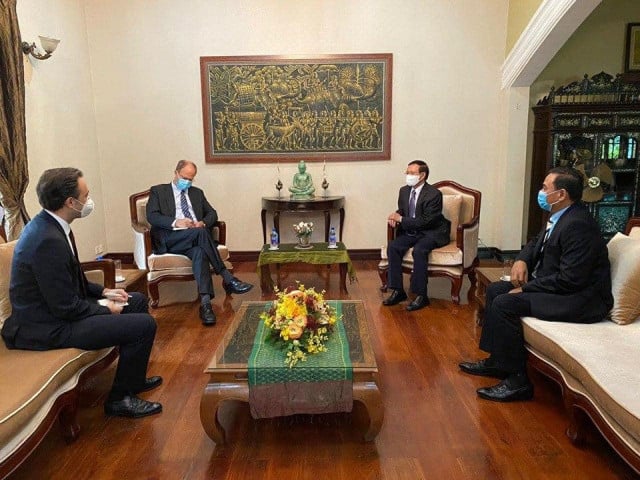 Former leader of the opposition, Kem Sokha, met with Ambassador Christian Berger on May 11.

PHNOM PENH--The German Ambassador to Cambodia expressed his support for the meeting between former leader Kem Sokha and Prime Minister Hun Sen, suggesting it was a positive move for the two political rivals.

Sokha met with Christian Berger, German Ambassador to Cambodia, at his residence in Phnom Penh on May 11, according to his Facebook page.

During Ambassador Berger's visit, he praised the meeting between the two Cambodian dignitaries, Hun Sen and former opposition leader Kem Sokha on May 5, 2020.

"The Ambassador expressed his support for the meeting as a positive thing," Sokha said on his Facebook page.

He added that the Ambassador also discussed the health and livelihood of Cambodians during the Coronavirus Disease 2019 (COVID-19) pandemic. The Ministry of Health in a press conference earlier this morning noted that no new cases of COVID-19 had been discovered in Cambodia.

On May 5, Prime Minister Hun Sen reportedly spent close to an hour speaking with former opposition leader Kem Sokha at the funeral of Bun Seangly, Hun Sen's mother-in-law.

Sokha said that this week he will meet with more ambassadors in Cambodia from some major democracies.


Related Articles