Government Defends PM's Image on Banknote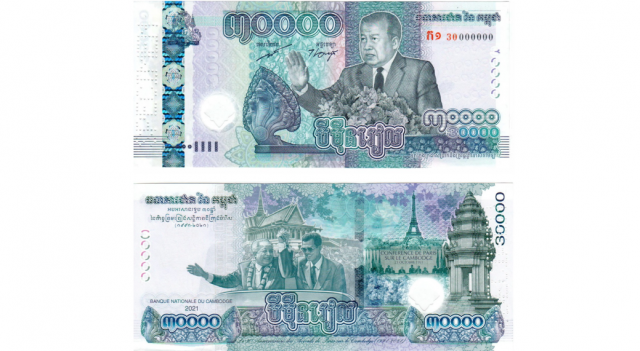 Critics accuse Hun Sen of lacking respect
PHNOM PENH--Cambodian People's Party spokesman Sok Eysan has a blunt message for anyone who opposes the use of Hun Sen's picture on the new 30,000-riel banknote. "Don't use it," he says.
The new notes were announced on Oct. 18 to mark the forthcoming 30th anniversary of the Paris Peace Agreement.
However, the use of the Prime Minister's image has run into opposition.
Sok Eysan said, "If you are not happy with the 30,000-riel banknote, just don't use it. That's it."
Um Sam An, a former member of the National Assembly from the opposition Cambodia National Rescue Party (CNRP), said no serving leader of any country put their own picture on banknotes. It was a conflict of interest.
"Banknotes only include leaders who are dead, or are no longer in the position, or the current King," he said.
Eng Chhay Eang, a former Assembly member and CNRP co-vice president, also criticized the Prime Minister's image on the banknote.
"Publishing the new banknote to include a picture of yourself shows no shame and is not thoughtful about the people," he said.
However, Sok Eysan mocked the opposition, saying critics were jealous because the banknote had a picture of Hun Sen and not of them.
He said it was not necessary to wait until a leader was dead to put their picture on a banknote.
The government issued a sub-decree authorizing the circulation and use of the banknotes, which are worth $7.50.
On one side is an image of King Norodom Sihanouk and on the other is a young Prime Minister Hun Sen with King Sihanouk holding each other's hand on the occasion of the King's return to Phnom Penh in 1991.
On the side with King Norodom Sihanouk and Hun Sen, there is the Independence monument in Phnom Penh and the Eiffel Tower in Paris.
The note carries text saying, "the 30th Anniversary of the Paris Peace Accords (1991-2021)".
Hun Sen said on his Facebook page that the government approved the circulation of the banknotes to commemorate the 30th anniversary of the Paris Peace Agreement and the 30th anniversary of the retirement of King Norodom Sihanouk.
He said including the image of King Norodom Sihanouk and the picture of Hun Sen was to remind everyone of the two dignitaries who were the founders of the agreement.
This was established in Paris on October 23, 1991, to protect peace, national unity, independence, sovereignty, neutrality, integrity and inviolability of Cambodian territory.
The agreement led Cambodia to hold the first elections in 1993. The modern country began with a new constitution under one government.
The agreement was signed by 17 countries, Australia, Brunei, Canada, China, France, India, Indonesia, Japan, Laos, Malaysia, the Philippines, Singapore, the Soviet Union, Thailand, Britain, the United States, and Vietnam.
Related Articles