HMAS Anzac Docks, Donating COVID-19 Supplies as Ream Naval Base Scrutinized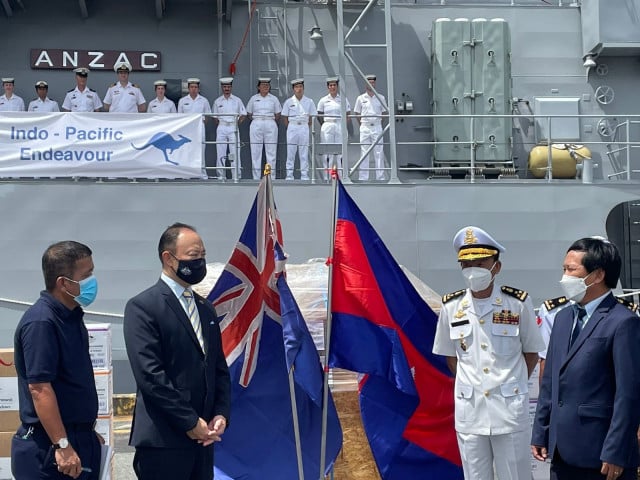 A visit from the Royal Australian Navy's HMAS Anzac has prompted government spokesperson Phay Siphan to lash out at critics over the alleged Chinese military usage of Ream Naval Base in Preah Sihanouk Province
PHNOM PENH--Government spokesperson Phay Siphan claimed that any and all military vessels are welcome in Cambodia's ports, not just Chinese ships.
Siphan added that Cambodia's multilateral position means it is not working under any foreign state or acting as a satellite for other governments.
"Cambodia's port is not exclusive to any country, but they are for multilateral use. Countries around the world are all friends of Cambodia," he said. "Whether it's the navy ships of the US, Australia, France, India, Japan or China—we welcome them all."
The claims came after the HMAS Anzac of the Royal Australian Navy landed in Sihanoukville Autonomous Port on Oct. 18 where it will make a three-day visit as part of the Indo-Pacific Endeavour 2021—an Australian campaign to bolster engagement throughout Southeast Asia.
The HMAS Anzac's 158-strong crew delivered 800 kilograms of medical supplies—mostly PPE to protect against COVID-19—to the Royal Cambodian Armed Forces, as the Indo-Pacific Endeavour focuses predominantly on booster defense ties between Australia and the region.
Australian Ambassador Pablo Kang said that the visit reinforces Australia's commitment to supporting Cambodia's future development, including its health and economic recovery from COVID-19 and bilateral defense cooperation.
All of this comes amid growing tensions over the Ream Naval Base in Preah Sihanouk Province, where the Asia Maritime Transparency Initiative (AMTI) reported on Oct. 12 that a road has been built and three new buildings have been erected around the base between August and September 2021, largely with the support of the Chinese military.
Both the AMTI and the US government have voiced concerns over the potential military application such a base could provide to the Chinese Navy—a claim that Prime Minister Hun Sen and various government officials have vehemently denied.
"We are aware of consistent, credible reporting that the People's Republic of China is engaged in a significant, ongoing construction project at Ream Naval Base," said Chad Roedemeier, the US Embassy in Phnom Penh's information officer.
A deal to guarantee China exclusive military access to Ream Naval Base—as reported by the Wall Street Journal in July 2019—would threaten Cambodia's autonomy and undermine regional security, Roedemeier added.
"The government of Cambodia has not been fully transparent about the intent, nature, and scope of this project or the role the PRC [People's Republic of China] military is playing in its construction, raising concerns about the intended use of the naval facility," he said and called on the government to be more transparent regarding China's level of involvement in Ream Naval Base.
Siphan dismissed criticism as "political agendas, lies and a distortion of information."
He said that the new buildings are for Cambodia's military, not the Chinese, and that Cambodia has the right to construct buildings within its sovereign territory. He did not respond to questions regarding China's involvement in the development of the naval facility.
Related Articles