Hun Manet discusses bilateral ties and regional security issues with Singapore government leaders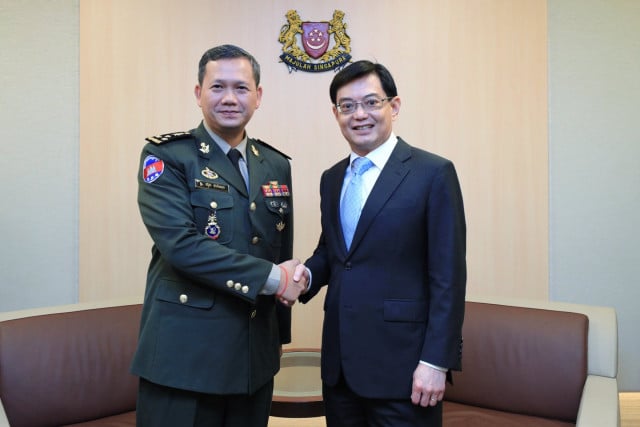 Thmey Thmey
June 12, 2019 3:04 PM
Manet's visit boosts ties between the two after a recent diplomatic incident
PHNOM PENH--Singapore Deputy Prime Minister for Finance Heng Swee Keat—the frontrunner as Singapore's next prime minister—met Wednesday with Lieutenant General Hun Manet, the son of Prime Minister Hun who is on a three-day official visit to Singapore.
"We had a fruitful discussion on a wide range of issues, including regional economic development, education and infrastructure development," Heng said afterwards.
"We both agreed that we cannot take peace and stability for granted, as we focus on growing opportunities for our peoples and the ASEAN community." Both Cambodia and Singapore are members of the Association of Southeast Asian Nations (ASEAN).
Manet, who is deputy commander-in-chief of the Royal Cambodian Armed Forces and commander of the Royal Cambodian Army, met Wednesday with Singapore Defense Minister Ng Eng Hen who held a welcome lunch for him.
"Singapore's and Cambodia's defense ministries will continue to work closely together to address common security challenges in our region," Ng said afterwards.
On Tuesday, Manet had a meeting with Foreign Minister Vivian Balakrishnan who said that they discussed the emerging security challenges in the region.
"[We] agreed that it was important to cooperate both bilaterally and within ASEAN to tackle these issues," Balakrishnan said in a statement on Facebook, adding that Singapore and Cambodia were old friends whose far-reaching ties benefited both countries as well as the region.
According to Balakrishnan, he and Manet welcomed the first bilateral consultation meeting between the two countries' ministries of foreign affairs (MFAs) scheduled to take place on June 19. "[T]his initiative will promote mutual understanding and exchange of views between our two MFAs at the working level," Balakrishnan said.
On Tuesday, Manet also met with Singapore Coordinating Minister for National Security Teo Chee Hean who said at the meeting that the two countries "will continue to work closely together in various sectors for mutual benefit."
Manet's planned official visit this week happens to take place after an incident that recently threatened to put relations between the two countries in jeopardy.
On May 31, Singapore Prime Minister Lee Hsien Loong wrote in a Facebook post that, in his letter of condolences to Thailand following the death of the former Thai Prime Minister Prayut Chan-o-cha, he had mentioned the late premier's role in ASEAN to oppose "Vietnam's invasion of Cambodia and the Cambodian government that replaced the Khmer Rouge."
In a Facebook post on June 6, Prime Minister Hun Sen wrote that those comments were "an insult to the sacrifice of the Vietnamese military volunteers who helped to liberate Cambodia from the genocidal regime [of the Khmer Rouge]."
The Singapore Ministry of Foreign Affairs issued a statement the following day to the effect that, the statement read, "Singapore highly values its relations with Cambodia and Vietnam."
Related Articles