Hun Sen Calls on Developed Nations to Provide Financing to Address the Climate Crisis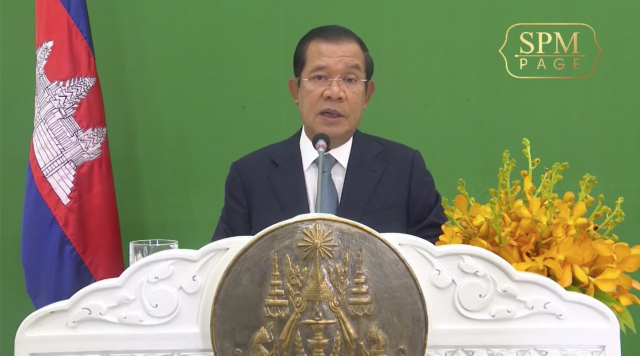 Sao Phal Niseiy
December 13, 2020 12:43 PM
Hun Sen adds that Cambodia's goal is to reduce greenhouse emissions by 18 percent by 2030
PHNOM PENH--Prime Minister Hun Sen on Dec. 12 announced that, next year, Cambodia will unveil a strategy to achieve carbon neutrality. He also called on developed countries to remain committed to global-climate finance and technological transfer.
Addressing the Climate Ambition Summit co-hosted by the United Kingdom, the United Nations and France, the prime minister began his speech by acknowledging that climate change is real and continues to adversely affect many countries including Cambodia, which has recently been affected by severe floods.
The Climate Ambition Summit, which took place online, was also held to mark the five-year anniversary of the Paris Climate Agreement, which was officially adopted in December 2015, and was attended by numerous world leaders including Chinese President Xi Jinping, Indian Prime Minister Narendra Modi and President of the European Commission Ursula von der Leyen.
The event was an opportunity for world leaders to review actions taken and renew their commitments to abide by the agreement previously made to limit by 2100 the rise of global temperature within 1.5 degree Celsius above the pre-industrial level in order to save the world from climate catastrophe.
Stressing that, as a responsible country that emits an insignificant amount of greenhouse gases, Hun Sen said that Cambodia remains highly committed to a collective fight against climate change based on its available resources and capacity.
He went on to say that the country is determined to set a longstanding action plan next year in order to realize carbon neutrality.
"As a country [taking on the] high responsibility of minimizing the impact of climate change, Cambodia is committed to formulating a long-term strategy in 2021 to achieve Carbon Neutrality," Hun Sen said.
But accomplishing this will require assistance from developed nations, he stressed. "To ensure successful implementation of this long-term strategy, Cambodia would like to appeal to all developed countries to fulfill the promised obligations, both in providing financial supports and technology transfers," he said.
The schedule for Cambodia's carbon neutrality remains unclear
Despite the prime minister's pledge to get the country's strategy in place by next year, it still remains unclear by when the government hopes to achieve carbon neutrality.
Neth Pheaktra, spokesperson at the Ministry of Environment, said that, from 2021 onward, Cambodia will lay down a long-term plan to neutralize carbon emissions and figure out alternative ways including energy sources in order to prevent environmental impact.
"We will be working on the carbon neutrality strategy from next year, but we currently have not determined a specific date—the time when we reach carbon neutrality—yet," Pheaktra said.
However, Cambodia's environmentalists are not optimistic about the government's new climate promises considering the implementation of the existing policy to address and mitigate the climate crisis.
Ham Oudam, a freelance consultant on natural-resource governance and environmental management, said that the climate actions announced by the prime minister remain lacking in substance and are more about diplomacy than actual climate commitment. "This is just a new mechanism to add up to the existing plans of actions, which we have not comprehensively implemented.
"And I can say this also is made just to catch up with the shift in global trend," he said, pointing out to the change in US leadership, which the world is about to see as the US's next president, Joe Biden, is expected to take climate change seriously.
"Therefore, I think what the government is announcing [this] just [as] part of foreign policy," Oudam said. "If you look at the reality, this won't make any significant difference and, apparently, there has been a reversing trend in climate efforts."
Speaking of reversing trend, Oudam said that what the government is saying is likely in contrast with what has been taking place as that the Cambodian government remains disinclined to combat illegal logging and making slow progress transiting away from fossil fuel such as coal.
Under the Paris agreement, which Cambodia and more than 190 signatories have agreed to, the Cambodian government made numerous pledges—one of which is to increase forest cover to 60 percent of national land area by 2030. But the enduring loss of natural resources over the past years due to unsustainable development puts the country's promises in limbo.
However, Pheaktra of the Ministry of Environment said that Cambodia has been paying much attention to addressing climate change through prevention and preservation of natural resources, adding that there have been markable results over the past years due to these efforts.
"Cambodia is not among the countries that have driven to climate change but we are affected by the climate crisis," he said. "But we always take swift action to deal with climate change effects despite hardships."
Pheaktra pointed out that the country has also been implementing carbon credit—a practice that contributes to the fight against climate crisis—and cooperating with development partners and stakeholders to protect forests in the country.
"From carbon credit, we have generated since 2016 up to $11 million and the money has been used for forest protection efforts," Pheaktra said.
Reducing greenhouse gas emissions by 18 percent by 2030
In addition to formulating a carbon neutrality strategy, Hun Sen said in his speech that in the newly-updated Nationally Determined Contribution (NDC), which is scheduled to be sent to the United Nations Framework Convention on Climate Change's Secretariat by the end of this year, the Cambodian government clearly integrates the explicit target of reducing by 2030 greenhouse emissions by 18 percent instead of the business-as-usual scenario.
"Cambodia has incorporated new and specific target, aimed at reducing Greenhouse Gas by 38.9 million tons of carbon dioxide equivalents, including sectors such as forestry, waste and agriculture," Hun Sen said.
This new target, he said, also includes generating 25 percent of the electricity through renewable energy in the energy mix by 2030.
Pheaktra explained that the carbon-neutral target will be Cambodia's long-term plan while reducing greenhouse gas by 18 percent by 2030 will be current top priority.
"From now on till 2030, we will determine to attain a reduction of 18 percent as first planned," he said.
In regards to increasing renewable energy in the energy mix system, Cambodia last year promised to increase the share of renewable energy in the energy sources to 20 percent by 2023.
Oudam said that, despite rising the energy share of clean energy such as solar energy and wind power, Cambodia has still been seen as increasingly embracing filthy fossil fuel like coal power. And without abandoning these polluting power sources, it is less likely that the country will be able to successfully honor its pledge and mitigate the climate impacts, he said.
"Even though we can see the effort to promote wind and solar power made by the government, there continues to be fossil fuel projects getting quietly approved by the government," Oudam stressed. "So, until we reach 2030, there will be more [fossil fuel projects] to come."
In February 2020, Cambodia's Council of Ministers greenlighted two coal-fired power plants to be constructed in Koh Kong and Oddar Meanchey provinces which have been commissioned for operation by the end of 2021 and early 2022, respectively.
With a $1.6 billion capital investment both plants could generate up to 1,000 megawatts collectively. Han Seng Coal Mines will develop a power station in Oddar Meanchey Province, while Cambodian tycoon Kith Meng's Royal Group will build the other in Koh Kong Province. Meng was, in August 2020, granted 168.8 hectares of Botum Sakor National Park in Koh Kong Province for this power plan.
While altering the actions and enhancing commitment will be extremely critical, Oudam suggested that the government can take some not-so-difficult steps from now on.
Those include, he said, implementing stricter regulations to end deforestation, expediting energy transition to clean power, and encouraging and supporting local communities to partake in forest protection.
Related Articles