Hun Sen credits win-win policy for rapid growth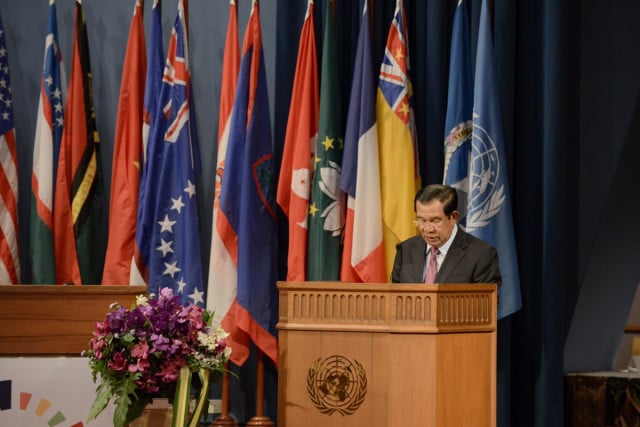 Prime minister says peace and stability are 'inevitable foundation'for development

PHNOM PENH - Prime Minister Hun Sen credited the government's win-win policy Monday for the country's rapid economic expansion over the past 20 years.
"Cambodia realized full peace and unified the country in late 1998," he told a UNESCAP forum in Bangkok.
"This is the result of the win-win policy that we initiated ourselves without any orders or foreign assistance.
"This allowed us to build trust among Cambodians and ensure national reconciliation," he said.
With peace and stability, Hun Sen noted that Cambodia grew at an average annual rate of 7.7 percent over the past two decades, becoming one of the fastest growing economies in the world.
"Peace and stability are the inevitable foundation for development whereas inclusive and equitable development is the most necessary condition for strengthening and ensuring peace and stability," he said.
The win-win policy refers to dismantling the Khmer Rouge's last stronghold in Pailin, disarming and reintegrating combatants into society.
Key elements of the policy included amnesties, job guarantees and reintegration through national reconciliation.
In his speech, Hun Sen acknowledged that some Cambodians had not been adequately empowered or received enough attention and remained vulnerable.
He reiterated the government's commitment to achieving "No one will be left behind goal", noting that the government already introduces the social protection policy framework for 2016 to 2025, health equity funds and the national policy on ageing for 2017 to 2030.
Related Articles