Hun Sen Orders COVID Jabs for Young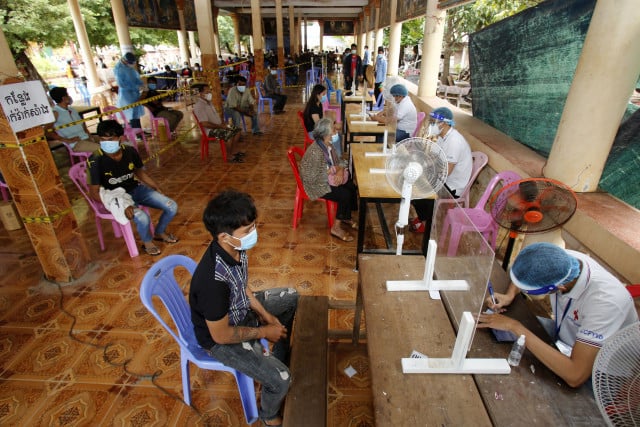 Vaccinations are key to children's future, says PM
PHNOM PENH--Prime Minister Hun Sen unveiled COVID vaccination plans on Friday for about 1.9 young people aged between 12 and 17.
In a special voice message, Hun Sen said getting teens and children vaccinated is critical for Cambodia because it not only will create herd immunity but also allow them to get back to school.
"We want to build herd immunity for the future of our children and youth as well as their health," he said.
"The pandemic has caused a huge loss for the world, and especially Cambodia, in building human resources."
With herd immunity, the country can consider at least reopening secondary schools, the Prime Minister said.
According to official statistics, Hun Sen said that the number of teens and children aged 12 to 17 years is about 1.9 million. He also called on parents and guardians to get ready to bring their children to get vaccinated when the time is officially set.
"This means we need around four million doses of vaccine for them. I have already ordered officials to purchase more vaccines," he said.
Including vaccine donations, Cambodia has received up to 31 million doses of vaccines already.
However, he said the country can't count on promised donations that have not yet arrived, so it is crucial to acquire more doses itself.
He said the government has two options. The first is to launch a vaccination drive for teens and children now by starting in Phnom Penh and Kandal province.
The second is continuing towards the target of getting 10 million adults vaccinated first.
889 new cases detected with 27 additional deaths
Health authorities reported 889 new cases in the country on July 16.
Another 849 patients had recovered completely and had been discharged from hospital. The number of patients who had succumbed to the disease stood at 27.
This has brought the total number of cases to date to 65,500 with 57,027 recoveries and 1052 deaths.
As of July 15, a total of 5,417,348 people had received their first vaccine dose while 4,036,410 had received both.
Related Articles