Hun Sen says China ready to counter EU trade threat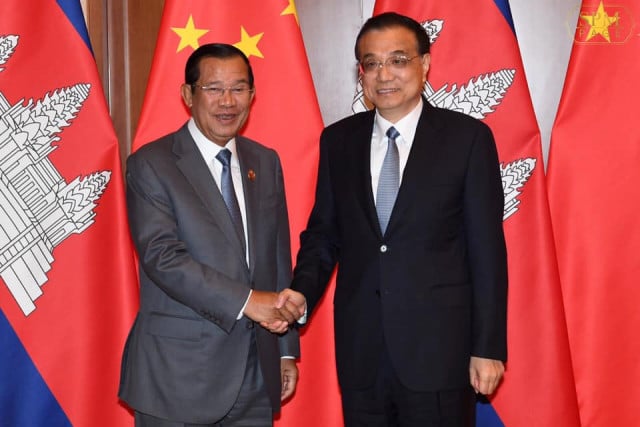 Thmey Thmey
April 29, 2019 4:14 AM
Prime Minister Hun Sen says China promises to help Cambodia deal with possible removal of trade privileges granted by European Union.
Phnom Penh, Cambodia–Prime Minister Hun Sen discussed strengthening cooperation with China during a weekend meeting with senior Chinese Communist Party official Wang Huning.
According to a Hun Sen Facebook post, Wang praised the prime minister for bringing peace, stability and economic prosperity to Cambodia.
Wang, a member of the Politburo Standing Committee, reportedly promised to encourage Chinese investors to invest more in Cambodia.
"If Cambodia faces any issue, China will help," Hun Sen quoted Wang as saying on Saturday, adding that China had studied the negative impacts of the possible withdrawal of trade privileges by the EU.
Unbreakable friendship
In a separate meeting with Chinese Premier Li Keqiang on Sunday, Hun Sen thanked the Chinese government for discussing the EU trade issue with Cambodia.
Hun Sen quoted Li as saying that relations between Cambodia and China remained unbreakable and that China would continue supporting Cambodia.
"China has a clear willingness to help Cambodia especially in regard to Chinese companies which are trading and investing in Cambodia," Hun Sen said.
In response to a request for China to open its markets further to Cambodian products, Li reportedly said that China was reviewing the possibility.
During Hun Sen's visit to Beijing for a Belt and Road summit, nine bilateral agreements were signed. These included a memorandum of understanding on China importing 400,000 tonnes of rice and an Agreement on Economic and Technical Cooperation under Grant Aid.
China to save Cambodia?
The World Bank recently warned that Cambodia's economic growth risked slowing with the removal of EU trade privileges and a slowdown in China.
China is Cambodia's largest trading partner with $5.8 billion in two-way trade in 2017, according to the Council for the Development of Cambodia. China was also Cambodia's largest source of foreign direct investment, amounting to $1.6 billion in 2017.
Po Sovinda, a research fellow at the Cambodian Institute for Cooperation and Peace, said a removal of EU trade privileges would have "nefarious consequences" on the Cambodian economy.
"Jobs will be lost and exports to the EU market will plummet," he said, expressing doubts about China's ability to offset the decline.
"China can't absorb Cambodian exports as much as the EU despite its huge market," he said. "Products such as clothing and footwear are not likely to be bought by Chinese consumers since China's domestic production is far better and bigger."
But China could continue to invest in service industries such as real estate and tourism. "It might help Cambodia develop more resorts in provinces such as Sihanoukville, Kampot, Koh Kong and Siem Reap to attract Chinese tourists," he said.
"Such industries are likely to take in Cambodian workers who previously worked for the garment industry. But this scenario depends on how far China wants to go on this path."
Po Sovinda said China could also continue providing concessional loans and unconditional aid. "But such practices are not sustainable," he said.
Related Articles