IMF chief recognizes financial inclusion in Cambodia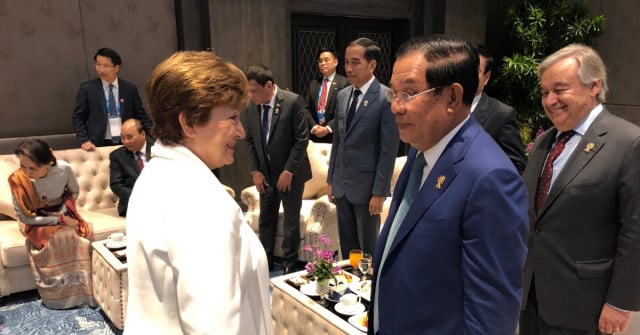 Thmey Thmey
January 19, 2020 5:37 AM
Managing director of International Monetary Fund says mobile finance gives people a chance to save, start businesses and improve education for children

PHNOM PENH - Mobile finance has created new borrowing opportunities for almost a fifth of Cambodia's adult population, International Monetary Fund (IMF) managing director Kristalina Georgieva says.
Speaking at the Peterson Institute for International Economics in Washington on Friday, Georgieva said financial technology was playing a "major role all over the world by giving people access to banking services and delivering a chance for a better life.

Many new borrowers 'never had a bank account before'
"Think of Cambodia where mobile finance helped generate 2 million new borrowers over the past decade, representing nearly 20 percent of the adult population.
"Many of these borrowers never had a bank account before," she said.
"While these changes may not immediately reduce income inequality, they create opportunity — and give people a chance to save, start a small business, and improve educational options for their children."
Georgieva said IMF research showed a 2-to-3 percentage point difference in long-term GDP growth between financially inclusive and less inclusive countries.
'Economic game changer'
"So, we know that financial inclusion can be an economic game changer.
"It can help break down the barriers presented by gender, race, geography, and unequal starting positions in life," the Bulgarian economist said.
"We want a financial sector that is robust, but not overly complex.
"We want financial inclusion to bring new opportunities and credit, but not create heavy debt burdens and put an entire system at risk."
Related Articles