Japan and Countries along the Mekong River Discuss the River's Future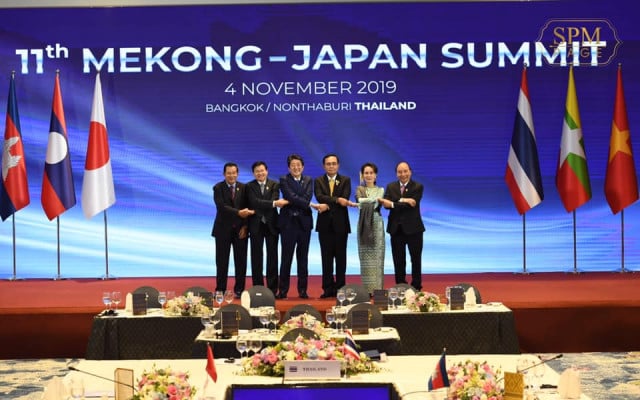 Jazmyn Himel
November 5, 2019 2:00 PM
PHNOM PENH—The 11th Japan Mekong Summit took place in Bangkok last week as political leaders from the region were gathered in the Thai capital for the 35th ASEAN Summit.

Held on Nov. 1, the Japan Mekong Summit was chaired by Japan Prime Minister Shinzo Abe and attended by Prime Minister Hun Sen and his counterparts from Lao PDR, Myanmar and Vietnam.
"Although the world is going through uncertainty, we must jointly strengthen multilateralism, which is an essential element for peace, security and prosperity in this world," Hun Sen wrote about the meeting on his Facebook page Monday.
As part of the Tokyo Strategy 2018, which was announced at the 10th Mekong-Japan Summit last year, countries have agreed, Hun Sen said, "[that t]he realization of Green Mekong provides additional energy to promote regional competitiveness [and can help transform the] Greater Mekong Sub-region into the center of Global growth."
Japan has been cooperating with Cambodia since 2014 under the "Joint Carbon Credit Mechanism" to help reduce emissions.
Related Articles