Judges Urged to be Fair at Kun Khmer Competition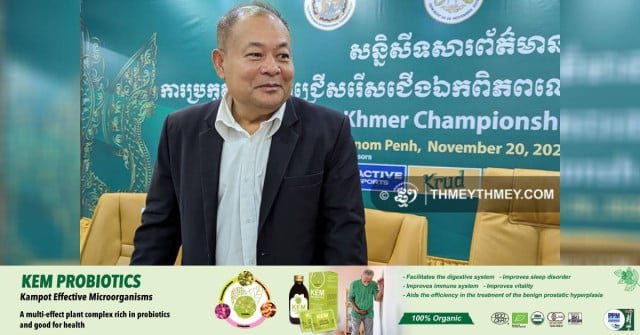 PHNOM PENH – Head of the International Kun Khmer Federation Meam Ra has called for maintaining justice, transparency and fair play at the upcoming Kun Khmer competition in Siem Reap in order to promote the national sport's image.
Fighters from 16 countries across Asia, Europe and America will participate in the 4th Kun Khmer International competition, also known as World Kun Khmer, held in Siem Reap from Nov. 26 to 28, while Cambodia celebrates the Water Festival for the first time in four years.
A total of 25 Cambodian fighters including Phal Sophorn and Chhut Serey Vanthong will face off against 39 foreign warriors in the ring, said Meam Ra, president of the federation.
Ra said the competition's goal is to promote Khmer traditional martial arts in other countries with the wish to list Kun Khmer as an Olympic sport in 2032. The fighters have been advised to fight professionally since it is not only about victory or being a champion but also part of the efforts to make the martial art well known on the world stage.
In a press conference, Ra also asked the organizing committee to be accurate in the match.
"The organizing committee must maintain the principle of fair play. Of course, in the ring, fighters know if they have won or lost, but if they win and we let them lose, they will look down on us," he said.
"The face of our country depends on our fighters and organizers."
Six champion belts are up for grabs. There are also friendly matches and matches between young athletes.
Currently, the federation consists of 60 countries. Cambodia has hoped to have more members so that the martial arts could gain Olympic status.


Originally written in Khmer for ThmeyThmey, this article was translated by Torn Chanritheara for Cambodianess.
Related Articles