Kem Sokha Sentenced to 27 Years Detention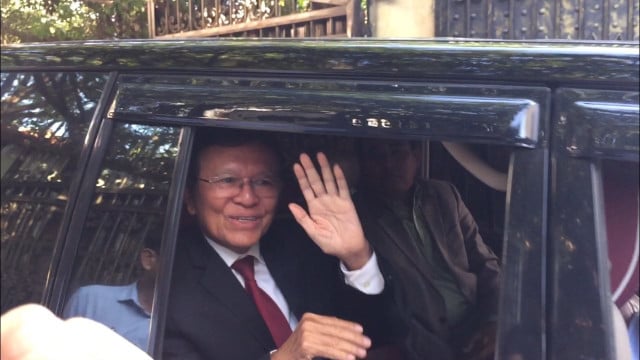 PHNOM PENH – Former opposition leader Kem Sokha has been sentenced to 27 years home detention in a treason trial condemned by many as a political ploy just four months before the general election.
Sokha, the former president of the dissolved Cambodia National Rescue Party (CNRP), was arrested in 2017 and charged with conspiracy with foreigners to overthrow the government.
He was barred by Phnom Penh Municipal Court on Mar. 3 from taking part in politics for life. His lawyer Ang Udom said the sentence was unfair, unacceptable and did not follow due process as stated by law.
The judge had not read the whole verdict and only delivered a summary. The defense team would appeal the ruling and discuss the next move with the client.
"We all know it's about politics. Only politicians can solve it," he said.
Kem Sokha was arrested two months after the July 2017 commune elections and was held in prison for more than a year before being freed under house arrest.
The Supreme Court dissolved the CNRP in the following November and ordered a five-year ban on political activities for 118 party officials.
US Ambassador W. Patrick Murphy said, "The United States is deeply troubled by the conviction of respected political leader Kem Sokha. The process to silence Kem Sokha based on a fabricated conspiracy is a miscarriage of justice.
"Denying Kem Sokha and other political figures their freedom of expression, their freedom of association undermines Cambodia's Constitution, international commitments and past progress to develop a pluralist and inclusive society.
"We call on authorities to allow all Cambodians to enjoy their personal human rights, peaceful assembly and free expression and to participate in building a truly democratic system."
Human Rights Watch (HRW) said Cambodian authorities should quash this conviction which was politically motivated and immediately and unconditionally release him.
HRW said Sokha had been subject to arbitrary detention and mistreatment in custody.
"It was obvious from the start that the charges against Kem Sokha were nothing but a politically motivated ploy by Prime Minister Hun Sen to sideline Cambodia's major opposition leader and eliminate the country's democratic system," said Phil Robertson, deputy Asia director at Human Rights Watch.
"Sending Kem Sokha to prison isn't just about destroying his political party, but about squashing any hope that there can be a genuine general election in July."
Grassroots Democratic Party president Yeng Virak said it was sad to hear the verdict and not good for a democratic society.
"We wanted to believe that the verdict would be favourable on the merit of justice for Kem Sokha. We know it is not the end of court proceedings so I believe that he and his defence lawyers will appeal and we hope they can still find justice for him."
Asked what message the verdict sent to opposition parties just months before the election, he said, "It's not a good sign. Our Constitution is no guarantee of the rights of all Cambodian citizens, including rights to political freedom.
"Cambodian citizens should be able to stand for election. Sadly, he has been banned from participation in politics for the election two times already.
Virak agreed that he was concerned about the message to the world from the verdict and from the closure of VOD last month.
"Cambodian citizens and voters very much need balanced information for their decision to vote."
Australian Ambassador Justin Whyatt said, "We are deeply disappointed by today's decision to sentence Kem Sokha to 27 years of house arrest, after being found guilty of treason.
"Australia has consistently called for a fair and transparent resolution in the case. Australian officials observed today's hearing, alongside colleagues from other diplomatic missions.
"Australia will continue to its dialogue with Cambodia to encourage political space for genuinely contested elections and to support human rights, democracy and the rule of law."
A court spokesman later issued what was said to be a clarification of the main points of the verdict.
The spokesman said pushing and promoting human rights and democracy was not illegal and was guaranteed by the Constitution.
"However, the court found that the pushing and promotion of human rights and democracy carried out with the help of conspiracies, conspired with foreign states or foreign agents to overthrow legitimate governments by people's forces or to overthrow the color revolution in states like "B" and "C" is an illegal act that has seriously affected the peace, national security, social stability and well-being of the people as a whole."
The court had not named the foreign state or agent to ensure good relations and the national interests of the Kingdom.
Kem Sokha was ordered not to meet any person, Khmer or foreign, directly or indirectly through technology beside family members, except with the permission of the court prosecutor. Police were given full authority to monitor and enforce the verdict.
Related Articles
February 16, 2022 3:54 PM