King Norodom Sihamoni Calls the Oil Extracted Off Cambodia's Coast a Historic Moment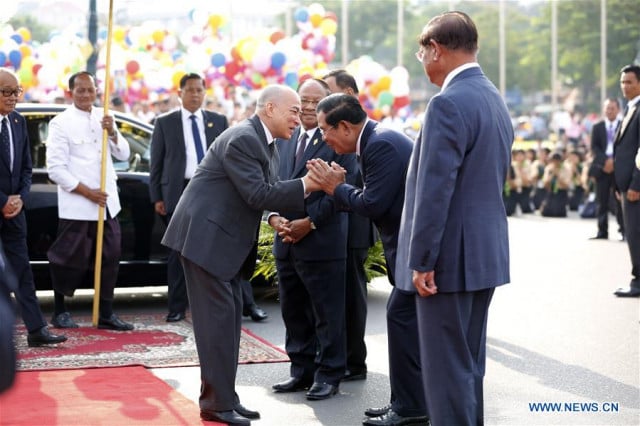 Torn Chanritheara
December 31, 2020 9:18 AM
This will contribute to the country's growth and development, he said
PHNOM PENH--King Norodom Sihamoni on Dec. 30 applauded the extraction of the first drop of oil off the Cambodian coast in the Gulf of Thailand.
In a letter to Prime Minister Hun Sen, the king congratulated him, saying that the extraction of crude oil after nearly two decades of attempts was a historical achievement.
"This first drop of oil is the beginning of a new chapter in the history of the Kingdom of Cambodia in the development of the petroleum industry, potentially bringing the Kingdom of Cambodia further growth and development," the king wrote.
During his address on Dec. 29, Hun Sen announced that the extraction of first drop of crude oil in Block A of Cambodia's gulf which he called a long awaiting. had just been done.
He had added that the kickstart of oil extraction was a blessing for Cambodia and a crucial step toward building national capacity and contributing to the development of the oil industry, gas and energy sector in the country. Moreover, Hun Sen said, oil extraction will bring about an increase in national revenues and economic benefits.
However, it remains unclear how much money Cambodia will actually generate from oil drilling. In August 2017, the Cambodian government and the company KrisEnergy concluded an initial agreement for the development of Block A, which covers an area of 3,083 square kilometers in the Khmer Basin in the Cambodian waters of the Gulf of Thailand.
Cheap Sour, director general of the General Department of Petroleum at the Ministry of Mines and Energy, said on Dec. 30 that estimates are that oil reserves in Block A are around 30 million barrels, which can be extracted over eight to nine years.
Sour said that he had not yet received details as to when Cambodian oil will be available for sale and in which international markets or countries the oil will be exported. However, Sour added that KrisEnergy is reaching out to international buyers. "[The company] is doing the bidding process, and when completed, it can release [the oil for sale on the market]," he said.
Even though the Cambodian government can pump oil on its own, Sour explained, the country has not yet been able to reduce oil import, adding that what the country can extract is crude oil that cannot be used as such.
Crude oil needs to be refined before it can be used and Cambodia does not have oil refineries yet, which is why the country can only sell crude oil on the international markets, Sour said. "So far, our refinery plant has not made any progress: There are various financial problems," he added.
Related Articles