Lao gov't issues guidelines on self-isolation for mild COVID-19 infections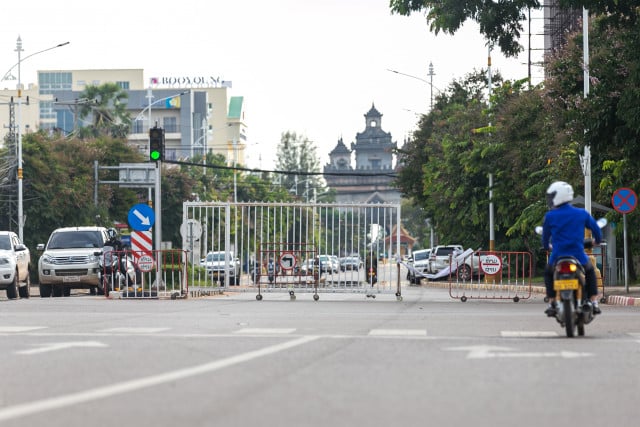 November 15, 2021 11:12 AM
VIENTIANE -- Lao health authorities are advising people with COVID-19 who have mild or no symptoms to self-isolate at home instead of going to hospital, but stresses that they should follow the rules on COVID-19 control laid down by Lao Ministry of Health.
According to Vientiane Times, this should help lower the mortality rate due to COVID-19, because hospital staff need more time to care for people who are seriously ill with the virus.
Even though more temporary hospitals have been set up around the country, medical personnel will soon be unable to adequately deal with the growing number of COVID-19 cases, the ministry has said. The Ministry of Health issued a statement on last Tuesday concerning self-isolation at home, stressing the fact that an infected person should isolate themselves from other family members.
The advice comes as Laos faces a spiraling number of COVID-19 cases, which is projected to increase further in the coming days.
However, older adults and people of any age with an existing medical condition should see a doctor as soon as symptoms appear. This especially applies to those at high risk, such as people aged over 60, pregnant women, and people with heart, lung, kidney or liver problems, diabetes and cancer.
The infected person should be isolated from other family members and remain in a well-ventilated room, with windows and doors open to allow air to circulate. The person should use a separate bathroom from other people in the household and, if not separated, use a disinfectant spray after each use.
The ministry also advises infected people to use separate cups, plates and cutlery, and to separate the washing of bed sheets, towels and clothes. Infected people should not leave the house and caregivers should avoid close contact with others in the community. Other members of the household should go out to do the shopping.
The National Taskforce Committee for COVID-19 Prevention and Control, the Ministry of Health and other relevant bodies are assessing the situation but in the meantime advise people with no or mild symptoms in Lao capital Vientiane to self-isolate.
As of Sunday, the total number of confirmed COVID-19 cases in Laos reached 54,192 with 99 deaths.
Related Articles