Low Prices Force Pepper Farmers to Quit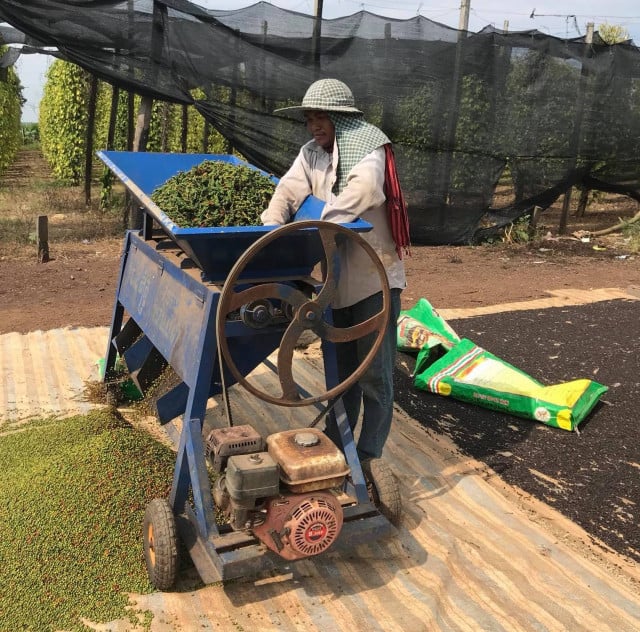 Oversupply blamed for driving incomes down
PHNOM PENH--Pepper farmers in Tbong Khmum province have given up planting on 800 hectares and have sought other jobs due to falling prices, shrinking markets and difficulties coping with costs during the Covid-19 pandemic.
Provincial Agriculture Department director Heng Piseth said many farmers had decided to give up pepper planting completely.
At least 800 hectares of plantations had been abandoned during the pandemic but he didn't how many famers were affected.
Most of those who gave up were new owners of large farms, lacking technical resources and water systems. These shortcomings caused pepper disease. Farmers also had to spend more money on fertilizer, oil and labor, he added.
"Cheap pepper prices have forced farmers to give up. Currently, pepper is sold for little profit. It's no longer profitable if the price drops to a dollar a kilo," he said.
However, he said some farmers were planting again and the prices were going up. He urged farmers to form an association or sell to an agri-business to ensure the price and a reliable market.
"The price is now better as farmers are starting to trust the community association when it can sell permanently. Despite the low cost, the community still generates profits. As a result, joining the association is the best way," he said.
Vorn Savoeun, who grows more than 20,000 pepper plants in Memot district, said many farmers had given up growing pepper after years of low prices.
"The only factor behind people giving up is falling prices," he said. "They have fallen sharply from 2019 until 2021. By 2020, the price dropped to less than 10,000 riel per kilogram which was unprofitable for farmers."
"They seem to be increasing but it is still not profitable."
Voeun, who has been growing pepper for more than 20 years, said planting the crop was very challenging due to the high amount of capital needed, labor costs, and technical and irrigation costs. Especially, pepper needs to be closely monitored, otherwise plants risk death due to disease.
Currently, Tbong Khmum pepper costs 14,000 to15,000 riel per kilo, however farmers said it is not yet profitable.
Agriculture Minister Veng Sakhon said the price of pepper was low because many farmers followed each other into planting the crops, which led to an excess supply on the market while shipping to the European market was expensive and unprofitable.
Cambodia was depending on neighboring countries, especially Vietnam, while these countries were also expanding cultivation.
Cambodia exported 28,074 tonnes of pepper in 2021, an increase of 452%, with Vietnam the largest market with 27,117 tonnes. Cambodia also exports pepper to Europe, the United States and other countries in Asia.
Related Articles