Migrant Workers Returning from Thailand as COVID-19 Restrictions Tighten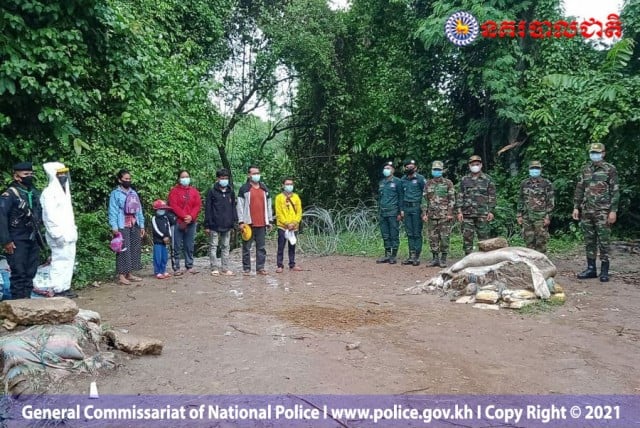 With Bangkok closing construction sites for 30 days, many Cambodian construction workers are heading home—rights group CENTRAL estimate that 300 Cambodians are returning each day
PHNOM PENH--As many as 300 Cambodian workers are returning to from Thailand each day, according to labor rights group CENTRAL. This comes as the informal economy, which employs many of the estimated 200,000 Cambodian migrant workers in Thailand, has collapsed under the weight of a deadly COVID-19 outbreak that has seen many Thai provinces go into lockdown.
Khun Tharo, program manager at CENTRAL, said that restrictions across Thailand had seen many Cambodians lose their jobs and head for home.
"Most of the returning workers are informal workers, construction workers, shop-market workers, because they have no social protection, while the closure of Bangkok and construction sites," he said. "Some are worried about staying illegally and living through a COVID-19 outbreak which forced many to return."
The Thai government has announced the closure of construction sites in Bangkok and four other border provinces for 30 days, which started on June 28.
Tharo said that many workers fall victim to cheating brokers who charge high fees for transport across the border, whereas others attempt to return to Cambodia through informal migration corridors by themselves.
Most will try to find work in agriculture upon their return, he added, noting that it was one of the remaining opportunities for an income in Cambodia due to the fluctuating COVID-19 pandemic.
This comes as Cambodia reported a record number of single-day COVID-19 cases, with 1,130 new cases identified by the Ministry of Health on June 30.
Labour Ministry spokesman Heng Sour couldn't be reached for comment, while Foreign Ministry spokesman Koy Kuong said that he still had no reports on migrant workers yet.
Tharo said that so far, about 400 Cambodian workers in Thailand had contracted COVID-19, while 30 had died in occupational accidents this year alone.
The potential surge in migrant workers returning from Thailand has prompted fears that the more transmissible and potentially vaccine-resistant Delta variant of COVID-19 may enter into the community if proper border quarantine measures are not enforced.
So far the Ministry of Health has reported 22 cases of the Delta variant, although GISAID—whose data comes directly from the Pasteur Institute in Cambodia—reported 25 as of June 30. All cases of the Delta variant are believed to have been imported, with some involving workers returning from Thailand.
Keo Vanthan, the deputy director-general of the General Department of Immigration said that more than 44,000 Cambodian workers returned from Thailand, while Thai authorities have also returned 4,000 illegal Cambodian migrant workers to Cambodian authorities.



Additional reporting by Phoung Vantha
Related Articles