Number of Gangs on the Rise, Action Urged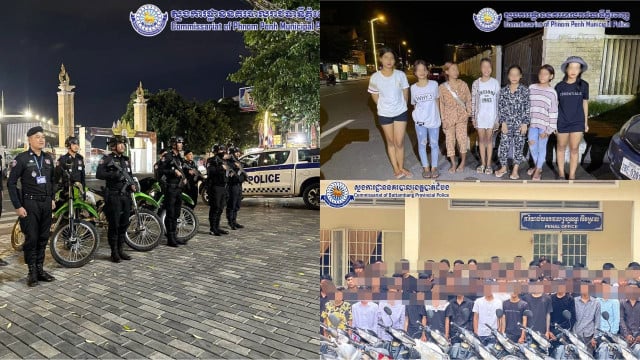 September 12, 2023 5:12 PM
PHNOM PENH – Local authorities and police forces have recently been challenged by the rise of gangs that spread terror and violence in several towns across the country. Social watchdogs criticize the lack of timely response from the authorities.
Since mid-August, an increasing number of small groups of young Cambodians have been creating chaos in Cambodia's streets. Videos shared on social media show them being engaged in violent fights in public spaces, riding over speed limits to escape from local police, stealing, or destroying people's property.
As a result, local crackdowns have been conducted with tens of people being arrested.
On Sept. 8, 20 gangsters got caught in Phnom Penh and 10 youths were arrested in Banteay Meanchey province. Two days later, almost 50 people were arrested in Battambang in a similar operation. Some of them were found to be drug addicts.
The accumulation of such wrongdoings creates a climate of social insecurity, said Soeung Senkaruna, the investigative and human rights officer for local human rights NGO ADHOC.
He pointed out that local authorities have been slow to take action and feared that gangs will continue to proliferate.
"Gangs underestimate the ability and responsibility of the relevant authorities," he said. "Therefore, the authorities and local authorities should perform their role to serve the people actively. People are increasingly worried by the situation."
In 2010, former Interior Minister Sar Kheng set out the Safe Village-Commune Policy, to prevent the spread of drugs, gambling, robbery and gangs.
But the outcomes of that policy have never been assessed, and his son Sar Sokha, who took over as Interior Minister in August 2023 as part of Hun Manet's new cabinet, ends up having to deal with another surge in gangs.
The Ministry's Spokesperson Khieu Sopheak couldn't be reached for comments about the situation.
Yong Kim Eng, executive director of the People's Center for Development and Peace (PDP), concurred with Seng Senkaruna, blaming the inactivity of local officials for causing the rise of gangs, which reflects the inability of local authorities to deal with the issue.
Both social observers urge senior officials to monitor the performance of local officials to ensure the safety of citizens. They say it is necessary to divide the work for local officials to work consistently, adding that most of the local authorities are only taking their salary and not doing any actual work.
"Ask the police in problematic areas whether they have taken action," said Kim Eng. "Educating them is not enough. They must be strengthened."
Deputy Commissioner General of the national police Chhay Kim Khoeun said the authorities work hard to prevent the surge in gangs and to ensure the safety of the people in the community.
He recalled that the General Commission of the National Police has issued orders to strengthen local patrols and raise awareness to reduce anarchic activities.
"But what is important in solving the problem of gangsters is the factor of public education and society as a whole," said Kim Khoeun. "The police can't [solve the issue] alone. If the family or parents do not help and schools do not participate, there will be no solution."
Municipal and provincial commissioners have recently ordered more patrols. But on the Phnom Penh Municipal Commissioner's Facebook page, the public still expresses their concerns about the rise in urban violence.
Originally written in Khmer for ThmeyThmey, this story was translated by Teng Yalirozy for Cambodianess.
Related Articles