Patients Struggle to Access Medical Treatment as Hospitals Fear COVID-19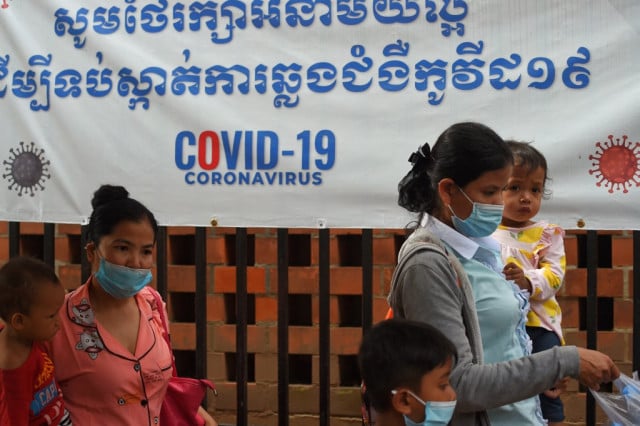 People are reporting that doctors are refusing to examine them for fear of contracting COVID-19 and are finding it harder to access necessary healthcare services as a result
PHNOM PENH--Cambodians have complained of struggling to access medical treatment amid the pandemic which has seen hospitals reluctant to treat patients for fear of COVID-19.
Lim Kimhong, whose daughter suffers from a congenital illness, said it had been difficult to find adequate healthcare services during the pandemic. He said some hospitals did not offer the necessary services, while some were careless about treatment.
He recalled how, almost two months ago, his daughter developed a high fever and so Kimhong took her to a private hospital in Phnom Penh, but was declined service. This, he said, he initially chalked up to the time of night he had taken his daughter to hospital, but then upon arriving at another hospital where children are treated free of charge, he noticed the doctors were reluctant to examine his daughter.
"When we arrived at the hospital, the doctor examined my daughter from a distance, they didn't talk much, just asked about her illness," he said. "Then the doctor prescribed the medicine for three days and told us to come back if her condition didn't get better."
Three days later, his daughter's condition hadn't improved and so Kimhong went back, only to again be given more medicine to bring down the fever after doctors assessed his daughter from a distance.
"Naturally, we, the parents, are very concerned about our children," Kimhong said. "In the past, our children were carefully treated. If it was serious, they would be hospitalized. However, in the COVID-19 crisis, the doctors are afraid of us. They only prescribe the medicine for us. Therefore, we are worried and have faced a lot of difficulties while having to go to hospitals many times."
The problem is not confined to Phnom Penh, Yeun Naroth, a resident in Ratanakkiri Province, shared a similar experience where she couldn't access healthcare services without first taking—and paying for—a COVID-19 test.
The private hospital Naroth visited gave her two choices, pay for the COVID-19 test and receive a full examination upon testing negative or the doctor could simply prescribe her some medicine based on what information Naroth could share about her condition.
Without the money to pay for the COVID-19 test, the doctor's examination and the medicine, Naroth chose the second option.
"At that time, I wanted to go for a blood test and serum because I had severe stomach pains, headaches and fatigue," she said. "But they would not check my blood until I took the COVID-19 test. The doctor said that they would prescribe me medicines for stomach pain if I did not take the COVID-19 test. So, I decided to take only the medicine because taking the COVID-19 test would cost me more."
She added that the medicine prescribed by the doctor did not improve her condition, saying the doctor may not have carefully examined her symptoms.
"I want the doctor to ask the patients carefully and clearly about their symptoms," Naroth said. "I don't want them to just guess and give the wrong medicine to the patients. It's like accidentally killing them."
The reluctance of doctors to treat patients for fear of contracting COVID-19 along with the strain that the pandemic has placed on healthcare systems worldwide has made accessing often lifesaving treatment difficult in Cambodia and beyond, but experts warn that this could lead to an even great loss of confidence in local healthcare services.
In Cambodia, this was already a problem long before COVID-19 changed the world. The 2016-2020 Health Strategic Plan shows that there are roughly 1,000 public healthcare facilities nationwide, compared to some 8,000 private facilities. By and large, there's a preference towards private healthcare, which is widely regarded as superior in quality.
In part this is explained by the monthly salaries offered to government healthcare workers in public facilities, which ranges from $100 to $150 a month, depending on the role, but subsequently many healthcare practitioners are forced to either open their own private clinics or moonlight at other private healthcare establishments to make ends meet.
As such, trust in public healthcare remains low, yet the private healthcare system remains largely unregulated by the government, leading to varying levels of quality in services which further sows distrust among the public.
Pa Chanroeun, president of the Cambodian Institute of Democracy, said that doctors refusing to treat patients over COVID-19 fears will further deteriorate the public image of doctors in relation to their professionalism. It could also further harm public trust in local healthcare systems and could lead to a loss of life.
"Officials from the Ministry of Health, as well as hospitals, should not be so afraid of patients that they refuse to provide medical services to people," Chanroeun said. "Of course, in this crisis, everybody is scared of COVID-19, but if the doctors use this reason to ignore the patients, inhumanity in society will be created."
The need for doctors to take on private healthcare work to survive may also be a reason for the turning away of potential COVID-19 patients, said Meas Ny, a social analyst, who noted that it could be a fear of losing income if they come into contact with a positive COVID-19 case.
"It is thought that treating the COVID-19 patients will cause them to lose work, as the entire hospital will have to be closed for 14 days," Ny said. "In such situations, some hospitals risk their professionalism by refusing to accept patients who are seriously ill or suspected of having COVID-19."
Ny requested that the Ministry of Health pay more attention to this and suggested they help by lowering the price of COVID-19 tests in public and private healthcare facilities as many people have been affected financially by the pandemid
"If taking the rapid test is costly, people will be unable to afford the treatment," he said.
Or Vandine, spokesperson of the Ministry of Health, refused to comment. She referred reporters to Ngov Kang, Secretary of State of the Ministry of Health, but Kang did not pick up the call.
Additional reporting by Teng Yalirozy
Related Articles