Plong Pich Akara Breaks the Glass Ceiling as Cambodia's First Woman FIFA Referee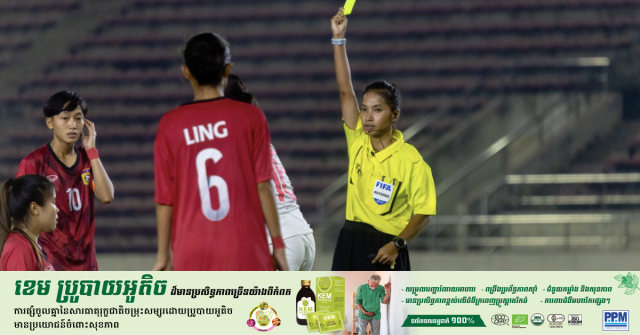 PHNOM PENH —Plong Pich Akara has worked very hard to become, at the end of 2022, the first Cambodian woman referee officially recognized by the world football body FIFA.

This started by overcoming quite a few social barriers in her own country to show that women can play this role as well as men. But this 28-year-old woman said that no amount of criticism or obstruction could stop her.

Akara is the eldest child in her family and has two brothers. Her father Plong Priseth is a police officer and her mother Has Bophos sells fertilizers and pesticides in her store.

From the start, Akara's parents encouraged her to take part in sports activities. But she saw herself as a referee from the start and competed to play that role in 2014 when she was in grade 12 at the Hun Sen Serey Pheap High School in Takhmao City.

In 2015, Akara enrolled in the National Institute of Physical Education. After graduating from the institute in 2017, she went to teach at the Hun Sen High School in Siem Reap.

From 2014 to 2022, Akara took a referee training course and also practiced in the field. What drove her was to become the first Cambodian woman referee to be recognized by FIFA, because none had yet been recognized by this international football institution.

"What is interesting is that, when entering the first level of refereeing, the coach [record] shows that in Cambodia, there are no women referees who have been chosen as international referees," Akara said. "When I heard this, in my heart, I had the ambition to be the first Cambodian FIFA woman referee."

This young woman has gone against the assumption that women could not perform well as referees by demonstrating that they can fulfill this role. Before being recognized by FIFA and accepted by the Cambodian society for her profession, Akara recalls being disrespected by some people who used abusive words because they still did not believe that women could play this role, even accusing her of having paid for being there.

In order to overcome all these obstacles, Akara continued to work hard to improve her physical and technical skills as well as foreign languages. "I am happy because their words are like a huge success for me," she said. "I really thank them. I would like to encourage all Cambodian women not to give up because of others' words. Instead, it is a factor that makes us succeed. We have to put in efforts to make them see that their words do not determine our fate."

Being the first Cambodia's FIFA female referee, Akara said she is very happy since she can show other countries that Cambodia does has a woman referee who can officiate at international matches.

"As soon as I went abroad to lead a match with my assistant, I was asked if I come from Cambodia," she said. "The foreign referees were surprised because Cambodia had never had a female referee before. We have shown our ability to both foreign referees and referees."

Akara has blown the whistle in many international competitions including in the Philippines and Indonesia in the finals of the ASEAN Football Federation (AFF) Women's Championship and most recently the women's football finals at the 32nd Southeast Asian Games in Phnom Penh during which which Vietnam beat Myanmar and won the gold medal.
Related Articles