PM Denies Cash Motive Behind Water Festival Cancellation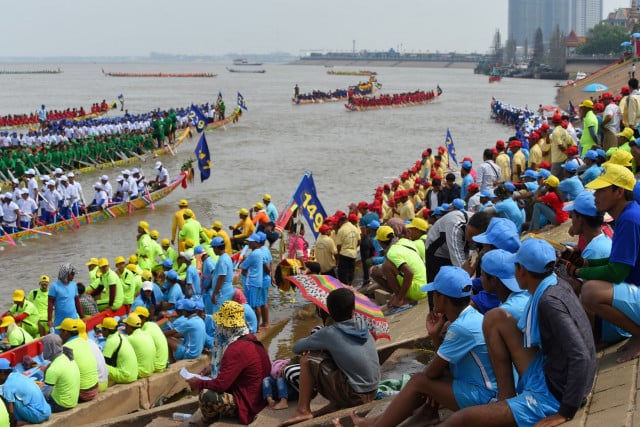 September 15, 2022 10:50 AM
PHNOM PENH – Prime Minister Hun Sen has defended the cancellation of this year's Water Festival, citing the need to maintain security for the ASEAN Summit in November and the presence of COVID-19.
He dismissed claims that the government has no money to hold the festival.
The government announced the cancellation of the annual three-day event at its Sept. 9 cabinet meeting but allowed it to go ahead in the provinces.
The festival was to take place from Nov. 7 to 9 while the summit will run from Nov. 10 to 13. Schools in Phnom Penh were ordered to close during the summit.
This has prompted criticism and allegations that government is running out of money to hold such an important festival.
However, the PM shrugged off such suggestions as insane, giving an assurance that Cambodia is not bankrupt and could still organize the event if needed.
He said the first reason to call off the event was to reduce the risk of COVID-19 transmission as people flock to the city to watch boats racing in front of the Royal Palace.
The main reason for the cancellation was that Cambodia was to host the annual ASEAN summit in Phnom Penh.
He added that there would also be official visits by Vietnamese Prime Minister Pham Minh Chinh on Nov. 7, Chinese Premier Li Keqiang on Nov. 8 and Philippine President Ferdinand Marcos Jr on Nov. 9 while Bruneian Sultan Hassanal Bolkiah will pay a state visit on Nov. 14.
"I, as prime minister, could not allocate enough time to control the situation during the Water Festival at the time that we have to prepare security for head of states/governments of ASEAN and other partners and other institutions," he said.
This year's ASEAN meeting would be one of the biggest events as leaders would attend in person after summits had been held virtually for two years. There had also been requests for visits from other countries.
The prime minister said Cambodia as ASEAN host had coordinated with regional and external partners since two important summits were to be held right afterwards.
These were the G20 summit in Indonesia and an Asia Pacific Economic Cooperation meeting in Thailand. Hun Sen will attend both.
"Phnom Penh must be well prepared to guarantee the success of the 2022 ASEAN summit. I hope that our people will understand," he added.
Related Articles