Siem Reap Eagerly Awaits Tourist Inflows in October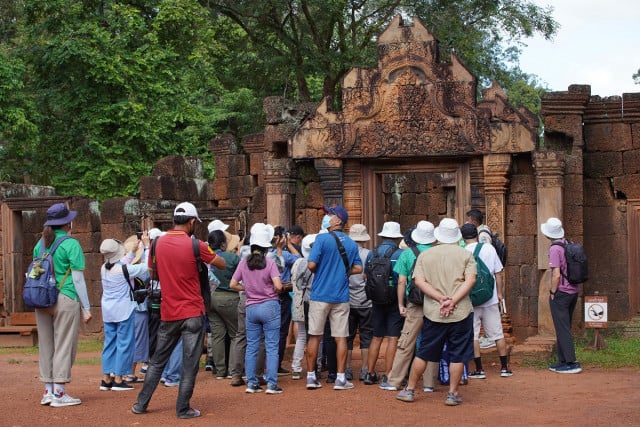 PHNOM PENH – Tourism experts foresee an inflow of tourists in Siem Reap province this October, while a number of high-class hotels will resume their operations in September and October, in order to be ready for the upcoming high-season which starts in November.
Chhay Sivlin, president of the Cambodian Association of Travel Agents (CATA), hopes the number of tourists flowing to Siem Reap will rapidly increase, as the current offer in the tourism industry is now exceeding the demand.
"We see that the number of visitors is limited," she said. "Although only 40 percent of businesses in the tourism industry have resumed their activities, it already far exceeds the current demand. Most of the reopening occurred during the rainy season [which is traditionally not the peak of tourist season], so there are not many tourists. However, we expect a lot of bookings in October."
In the first seven month of 2022, Siem Reap received more than one million visitors, of which only 83,854 were international tourists. Around half of the tourism-related businesses in the province have reopened, totaling 548 restaurants, bars or hotels.
While such levels of activity are similar to pre COVID-19 standards–the province received 1.4 million tourists for the same period in 2019– the demand is now driven by national visitors whereas it relied heavily on Chinese tourists a few years ago.
Unlike international tourists, Cambodians are more willing to visit other parts of the country, diluting the recovery of tourism across Cambodia's 25 provinces: While about a third of tourists visiting Cambodia went to Siem Reap in the first seven months of 2019, that share dropped to 16 percent this year.
Despite the low number of visitors in Siem Reap, Sivlin still sees that the slow recovery benefits tourism workers, who need time to strengthen their skills after a two-year hiatus.
David-Jaya Piot, president of the Siem Reap chapter at the Cambodian Hotel Association (CHA), said that during the first seven months of the year, the businesses which reopened were mostly small-size hotels receiving visitors from Europe. "Only a few big hotels have reopened, as the number of Chinese tourists visiting Cambodia and Siem Reap is still very low," he said, adding that he's not expecting to see high-capacity hotels dedicated to the Chinese market to reopen anytime soon.
According to the statistics from the Tourism Ministry, nearly 1.3 million Chinese tourists visited Cambodia from January to June 2019, while they were only 30.754 this year. With more than 143,000 and 134,000 visitors, Vietnam and Thailand represent the two main countries where international tourists come from this year.
However, Piot warns that the current level of tourism activity is barely enough to maintain the opened businesses afloat.
"As for now, the best thing hotel owners can hope for is to be able to handle the expenses. No one can yet dream about making profits," he said. "I hope later this year or early next year will be better. But business in the tourism sector is difficult to predict."
Ros Say, general manager of Viroth's Hotel in Siem Reap, is no exception. He said that his hotel has regular visitors, but nothing comparable to prior to the COVID-19 outbreak. The hotel regularly has about seven rooms booked, mostly by European customers.
"There was good momentum for the last two to three weeks, but it represented about 50 percent of what used to be the norm before COVID-19. Bookings have increased significantly from overseas guests, specifically from Europe. And I notice that most of them are first-time tourists to Cambodia and Siem Reap," he said.
Because of the two-year break in the tourism industry, Minister of Tourism Thong Khon now calls on the industry to strengthen its capacity to meet international tourists' standards.
"The tourism market now needs to be very competitive. Tourism services cannot be neglected and must be of good quality because the market is tight during the recovery phase. Resourceful tourists are scarce, but if they come to Cambodia, they are likely wealthy and will visit famous sites like Angkor Wat," he said.
According to the Minister, Siem Reap province will be able to receive up to 2.2 million tourists in 2022, of which 240,000 international visitors.
Originally written in Khmer for ThmeyThmey, this story was translated by Kheav Moro Kort for Cambodianess.
Related Articles