PM Hun Sen Hints Aun Pornmoniroth Could Be Successor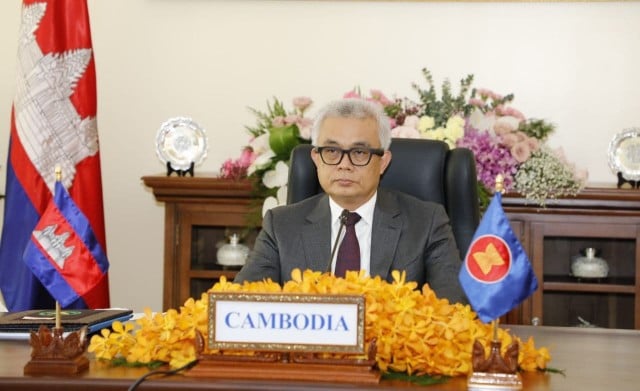 Romdoul Chetra and Phoung Vantha
December 16, 2020 11:01 AM
In his speech on Dec. 15, Prime Minister Hun Sen appeared to give credence to speculation that Finance Minister Aun Pornmoniroth could become the next leader of Cambodia.
PHNOM PENH--While much speculation has been made over a hereditary transition of power from Prime Minister Hun Sen to his eldest son, Hun Manet, in a televised speech on Dec. 15, Hun Sen appeared to suggest that Finance Minister Aun Pornmoniroth was being considered for the top job.
Responding to recent news reports, Hun Sen confirmed that Pornmoniroth has the necessary credentials and is in the running to be his successor.
"That's right. After the appointment of Aun Pornmoniroth on behalf of the Prime Minister to attend the ASEAN Summit, some media outlets described him [Pornmoniroth] as a potential candidate and you are right," said Hun Sen in his address to the nation regarding the COVID-19 pandemic. "In the [Cambodian People's Party], you have to understand how we organize—we have prepared a political force of core members, within three lines and four lines in waiting."
Minister of Economy and Finance, Aun Pornmoniroth was assigned to represent Hun Sen at the 37th ASEAN Summit which was held via video conference on Nov. 12-15, 2020.
Hun Sen himself was notably absent after having come into contact with the Hungarian Foreign Minister on Nov. 3, who—after his one-day visit to Cambodia—was found to be infected with COVID-19. Hun Sen, along with a range of senior government officials, were forced into self-isolation following the meeting.
However, in yesterday's speech, Hun Sen mentioned that he had seen Pornmoniroth's potential and has trained for a long time to become the current deputy prime minister.
"We have trained Aun Pornmoniroth, since he was my personal secretary to the Deputy Prime Minister and attend the ASEAN Summit. What's the message? Be clear that we are an organized political force," stated Hun Sen. "Do not criticize me, I am ready to transfer power to Hun Manet."
He added that within Cambodia's ruling party, there are many people with ability beyond his own family members.
"Aun Pornmoniroth is one of the few candidates [for prime minister]" he said.
The 55-year-old Minister of Economy and Finance is fluent in both English and Russian, holds a PhD in philosophy and political sciences from Moscow State University. Pornmoniroth has also served as assistant to the prime minister in 1993, economic advisor in 1998 and has progressed through the Ministry of Economy and Finance since 2003.
Meanwhile there has been an abundance of speculation surrounding Hun Sen's eldest son, 43-year-old Hun Manet—a three-star general in the Royal Cambodian Armed Forces—and his potential as a replacement for when his father eventually retires.
Manet received a bachelor's degree from West Point in 1999, a masters from New York University in 2002, and a doctorate from the University of Bristol in 2008, but Hun Sen has publicly sent out mixed messages about the likelihood of a hereditary transfer of power.
Political analyst Lao Mong Hay said he does not want to speculate on the future of Cambodia's leadership and will wait to see it in reality.
"As in previous times, his son, and now other people [are potential candidates], I don't want to speculate, politics is always changing, so let's wait to see that day come," he said, adding that both the Ministry of Interior and the Ministry of Economy and Finance have produced potential replacements for Hun Sen.
Hun Sen has been Cambodia's prime minister since 1985, and he said he intends to continue in that role for another ten years.
Related Articles