PM Hun Sen Orders Crackdown on Land Grabs in Tonle Sap Region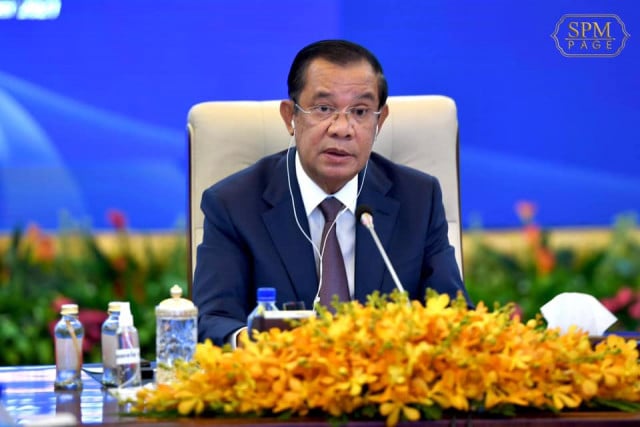 November 29, 2021 4:48 PM
Land rights groups welcomed the move, but warned that land grabs—which are a historic problem in Cambodia—are taking place across the country and need resolving urgently
PHNOM PENH--Prime Minister Hun Sen on Nov. 28 called for officials and powerful people involved in land grabbing to be held accountable, particularly in relation to flooded forestland across the Tonle Sap region.
"Regardless of the class, all that land must be reclaimed and subject for later reforestation," Hun Sen said in an audio message distributed on Nov. 28.
The message appears to have been directed at Land Management Minister Chea Sophara, who was ordered to meet with the Ministry of Water Resources and Meteorology, the Ministry of Agriculture, Forestry and Fisheries, as well as the Ministry of Environment and the Tonle Sap Lake Authority.
Hun Sen then called on provincial governors throughout the Tonle Sap region to immediately solve cases of land encroachment and prevent them from happening again.
Land grabs have affected some 770,000 Cambodians by the International Federation of Human Rights' count—their 2014 assessment of land grabbing in Cambodia found that 4 million hectares of land had been encroached upon, largely by rich, powerful individuals and companies who were granted land concessions by the government.
The Prime Minister also revealed that Chhour Chandoeun, former governor of Kampong Chhnang province, grabbed 2,000 hectares of flooded forestland before he was transferred to the post of under-secretary of state at the Ministry of Rural Development in June 2021.
"I order [officials] to take back all the land that has already been encroached, as in Kampong Chhnang if this report is wrong, I apologize," he said. "I heard that the former governor, who just left office a few months ago, has seized more than 2,000 hectares of land. So, I do not care if it is the land of the former governor, no matter what the land must be reclaimed."
Chhour Chandoeun, the former governor of Kampong Chhnang province, declined to comment, saying he was busy before hanging up the phone.
"No Longer Fit to be Officers"
Hun Sen has announced that he will not tolerate any official who takes the opportunity to indulge in illegal and greedy land grabs while the government is busy combating the COVID-19 pandemic.
"These people are no longer fit to be officers. They are better off in prison than being officers," he said. "And please do not say that you have been working to help the party [The Cambodian People's Party] for a long time, but the government and the party are not understanding. We have no understanding of such atrocities for our officials."
Hun Sen ordered National Police Commander Sao Sokha to use helicopters to patrol and crackdown on the encroachment of forestland, as well as to ensure that those involved in land grabs face the law.
He also ordered Om Yentieng, chief of the Anti-Corruption Unit, to conduct an investigation into officials linked to cases of encroachment of flooded forestland, saying he expects them to be punished legally and have their ill-gotten property confiscated.
"No matter what the cost, we have to get the land back," he said. "The perpetrators must be held accountable by law. I have stated that only the law can solve these problems. We have been educating them for decades about the consequences of this encroachment issue, why there are still such officials."
However, after saying only the law can resolve the issue, Hun granted land grabbing officials the opportunity to confess, saying that those who admit to land grabbing will receive less stringent punishments. Those who don't, he said, would not only have their land confiscated but also anything they have earned from the land.
Greater Transparency in Land Dispute Resolution Needed
Six hours after Hun Sen's message was published, Land Management Minister Sophara held an overnight meeting to establish a mechanism for preventing illegal logging and land grabbing in the Tonle Sap region's flooded forests.
He has since set up a team to monitor and investigate the encroachment of flooded forests in the provinces of Banteay Meanchey, Battambang Kampong Chhnang, Kampong Thom, Pursat, and Siem Reap.
But whether Hun Sen's impromptu intervention can legitimately solve such a historic issue that has plagued Cambodia remains to be seen. Similarly, members of Hun Sen's own family and his political inner circle have all been involved in land disputes over the years, with some reaching international courts—others, however, remain unresolved.
It is therefore unclear whether Hun Sen will seek prosecution of his family and colleagues, but Eang Vuthy, executive director of land rights group Equitable Cambodia, said that land grabs have been taking place for years with powerful people and large companies illegally seizing state land with impunity.
Vuthy welcomed Hun Sen's latest intervention, but noted that the timing likely coincided with land rights issues reaching a point of severity that it demanded an intervention on behalf of the local people around the Tonle Sap region whose land has been vanishing for years.
"What we see right now is a response to this situation," he said. "This work has to include principles and strict law enforcement because land grabs have become a chronic disease."
He added that the officials investigating land encroachment needed to work within the set mechanisms to resolve land disputes so as to ensure transparency in these new solutions.
While Vuthy said he supports the decision to intervene in land grabs, he questioned why it was only focused on the Tonle Sap region, when land grabbing remains an issue nationwide—other areas, he added, receive less attention and need solutions.
"We must address the issue everywhere, whether it has a minor or huge impact on the people," he said. "Officials in charge of state property maintenance must have mandates to carry out their works, otherwise it may be too late to resolve this issue."
Related Articles