Counting the Human Cost of Cambodia's Urban Development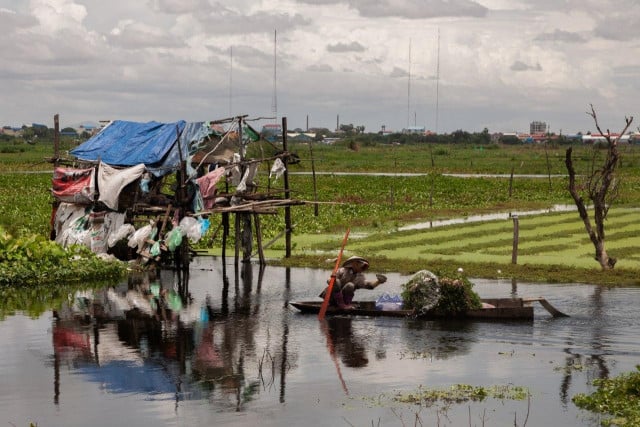 Gerald Flynn and Phoung Vantha
October 23, 2020 2:42 AM
The third and final part of our series examines how urbanization in Phnom Penh has radically altered the lives of its inhabitants—many of whom feel left behind in the city they call home, where corruption has characterized development.
PHNOM PENH--While parts one and two of this series have explored the economic gains and environmental consequences of Phnom Penh's rapid development, at the heart of these issues are the people who live with them daily.
As Phnom Penh looks set to fill in the 2,500 hectare wetlands of Cheung Ek and Boeung Tompoun in the south of the city, property developers are cashing in—building a satellite city expected to provide 300,000 luxury homes, along with a megamall and several gated communities. ING Holdings, fronted by Ing Bun Hoaw—a former secretary of state with the Cambodian People's Party (CPP) who has since turned his hand to real estate—is one of the key developers involved, but so too is Aeon Mall that already operates two megamalls in the city.
Some 1,000 households are set to be directly affected by the ING City development project being built in the Cheung Ek wetlands. An in-depth report assessing the social and human rights impact of the development projects underway on the wetlands found that the majority of inhabitants are low income families with low levels of education and no effective social security.
A consortium of civil society groups including Human rights group LICADHO, land rights NGO Sahmakum Teang Tnaut (STT), Equitable Cambodia and the Cambodian Youth Network surveyed 469 households around the Cheung Ek and Boeung Tompoun area and found that 86 percent of respondents had lived on the wetlands for at least five years.
Two thirds of respondents said that the financial opportunities provided by the wetlands had drawn them to live there.
"I'm from Takeo Province originally," explains one woman who wished to remain anonymous. All of the communities living around Cheung Ek and Boeung Tompoun who agreed to speak with Cambodianess did so on the grounds of anonymity, fearing reprisals.
"I came here with my family to farm these wetlands around 10 years ago, but it's too hard to get anything to grow now—the development projects are blocking the water flow and the vegetables have suffered," she said.
"I'll have to find a new job. It will probably be less money, but I don't have any other work experience and I won't get a job with any of the property developers, not even in construction," she said, adding that she does not know what will become of her house and fears for her four children.
Civil society researchers found that none of the wetlands' communities had been given an official notice of eviction. In fact, 16 percent of the 469 households interviewed had heard rumors that they would be evicted, but only 17 percent had been given informal warnings from the local authorities about evictions.
Livelihoods Lost
"I've lived here since 1990, we've got three generations under one roof," said another farmer, gesturing over to his family sat around his wooden home. "We're living day by day, the vegetables I sell make enough to cover rent and debt, but it's not enough to save anything."
He explained that he pays $20 interest monthly on a $100 loan that he took from a private lender in order to buy his boat, fishing equipment and seeds to plant. Having farmed the wetlands for almost 30 years, he has seen the quality of his aquatic crops drop since the infilling of the lake began.
"One bunch of vegetables typically sells for 1,000 Riels [roughly $0.25] so I can earn around $5 a day, but it used to be more—there's less lake to farm and people are spending less these days I think," he said, adding that, while he can't remember when the property developers began dumping sand into the wetlands, the impact has been felt most keenly this year.
Civil society researchers found that 30 percent of respondents had no formal education, 62 percent had debt—52 percent of whom reported being unable to repay debts on time with many resorting to eating less or taking their children out of school.
"I don't know what I'll do for work, the whole community is worried, but many are young—I am too old, who will hire me? I have no money to invest in anything, it's a hard way to live, but we were happy here once," he said, recalling days when he could catch enough fish to sell at the market as well as feed his family.
He added that his fish catches have gone from 20 kilograms a day down to four or five kilograms on a good day.
Reporting that neither he nor anyone in his community had heard from either the government or the companies filling in the wetlands, the farmer said he was deeply concerned about his family's future.
"The whole community is scared for their homes," he said. "If the wetlands go, we lose our livelihoods, we have no land titles for our homes. Years ago, City Hall told us to follow the bureaucratic steps to get proof of ownership, but all I have is a receipt from when I purchased the land."
Soeung Saran, executive director of Sahmakum Teang Tnaut (STT), voiced his concerns about the lack of consultation that the government has provided to the people it is supposed to represent.
"We don't [know] why the government is not consulting with its own people on the wetlands development," he said. "Many communities in the area do not feel empowered to fight for their rights to live and use the wetlands area."
An Opaque Approach to Land Titles
One reason he offered for this lack of resistance stems from the repeated denial of land titles to communities living around Cheung Ek and Boeung Tompoun, and called for greater transparency in the process of acquiring land titles.
STT has repeatedly made efforts to ensure that the government's reticence in effectively distributing land titles does not result in forced evictions, but the lack of accountability makes it difficult to address this growing problem.
"As far as we know, only one community has received land titles and many other families are losing the areas where they farm and fish," he explained.
Prek Takong Muoy Commune is, as of yet, the only area in Cheung Ek where residents have received land titles, although no one from the commune would speak—even under the condition of anonymity—for fear of having their land titles revoked.
"These [other] families will have to move away and find other jobs," said Saran. "We are not aware of any compensation being paid to communities in the wetlands but some families have asked to be compensated for losing their livelihoods."
With no land titles, communities said they felt unable to fight back against the well-connected property developers that are slowly forcing them out, one truck of sand at a time. Many fear the property developers are deliberately destroying their livelihoods so there will be no need for evictions and posed this theory as an explanation for the lack of communication between the communities, the companies and the government.
"I'm just renting this land," said one woman, pointing to her house along the water's edge. "I've lived here a long time, but when I got sick, I lost my job and so with no money, I had to sell my land—now I sell food."
The woman stood at her mobile snack station and behind her, the wetlands where—visible further on the horizon—was a trail of dust kicked up by the convoy of dump trucks carrying sand towards the end of a newly-built road.
"If I lose this community, I'll lose my livelihood," she cried. "I miss the past, back then we could catch fish and make good money, but now my customers are on the verge of leaving because of the development projects—the sand is killing their crops and the fish, soon it won't be possible to farm the way we have for years."
She explained that she will hold out until it is no longer feasible to stay, as she heard some of the residents plan to farm until the real estate companies make it impossible, but after that, she will stay with her daughter on the outskirts of Phnom Penh.
Pricing the Community Out of Phnom Penh
Saran of STT warned that the development of yet more luxury properties would hasten Phnom Penh's growing exclusivity. This was a danger raised by real estate firm CBRE in their 2019 outlook for the Cambodian market where they found that the stock of luxury condos was set to rise by 120 percent, prompting concerns of oversaturation in the mid-to-high-end accommodation market.
"Phnom Penh is being developed by private companies with a strong interest in making money," said Saran. "The government allows this and there is little concern for how it affects ordinary citizens and especially the poor."
Indeed, the lack of pro-poor housing has been a consistent concern in Phnom Penh for years, with the White Building—an iconic affordable housing block famed for its bohemian tendencies—demolished to make way for the third Naga casino. Built in 1963 and surviving the Khmer Rouge regime, the White Building was designed by Vann Molyvann, the much-revered Cambodian architect who long sought to defend Phnom Penh's lakes and wetlands.
"It's always modern housing units that are very, very expensive—close to or above $1 million—who can afford that?" Eang Vuthy, executive director of sustainable land-use NGO Equitable Cambodia, asked.
"It's not possible for most Cambodians, it's only for the rich," Vuthy said. "There's no sign of low-income housing for the people of Phnom Penh."
Spokesperson for the Land Management Ministry Seng Lot declined to comment, despite being fielded questions by multiple reporters on multiple occasions over issues surrounding the wetlands.
Cambodianess also reached out to Leang Monirith, secretary of state at the Ministry of Land Management, Urban Planning and Construction; Phnom Penh Governor Khoung Sreng; City Hall Spokesperson Met Measpheakdey; and Environment Ministry Spokesperson Neth Pheaktra. But none of them were prepared to discuss the wetlands, the development projects slated to replace them or the consequences of these decisions.
"We don't understand why the government promotes these luxury property developments," continued Vuthy. "People say it's mostly the Chinese who come and buy them, but ordinary Cambodians just can't afford them. We hope the government will look into appropriate schemes or basically look at the majority of Cambodians who can't afford these."
Vuthy added that there is no need for the government authorities to stop developing the luxury accommodations that appear to draw in foreign direct investment, but that they should also consider providing affordable alternatives for those Cambodians who are displaced in the erection of such expensive real estate projects.
The apparent predilection for luxury housing units that, by and large, tend to remain vacant throughout Phnom Penh has not escaped the notice of the international community. The Financial Action Task Force (FATF), an intergovernmental organization geared towards preventing money laundering, has long warned that Cambodia's anti-money laundering laws are poorly enforced and that such a gulf between legislation and implementation will almost certainly harm the country's development in the long-run.
"The property sector has been identified by FATF as one among other sectors that are high risks for money laundering in Cambodia," explained Pech Pisey, executive director of Transparency International Cambodia, who added that there was plenty of suspicious activity that needed to be addressed within the sector.
Pointing to the most recent gross domestic product per capita data for Cambodia, $1,643 in 2019 according to the World Bank, he said that most Cambodians cannot afford to buy luxury apartments and condos, so the market is effectively reserved for foreign nationals—many of whom buy their Cambodian property through sales and marketing agents in the form of investment schemes.
Affordable housing, Pisey said, is needed for lower-income groups who perform vital services in Phnom Penh such as teachers, nurses, and low-ranking police and military officers. He called on the government to ensure that those who lose their homes and livelihoods to these luxury developments are compensated and allowed to live with dignity.
"However, the patronage system and collusion between political and business elites and the abuse of power for private gains are to blame for this chaotic urbanization, which will in the long term do more harm than good for the city," said Pisey.






A community gathers up their aquatic crops to sell in markets around Phnom Penh. Photo: Gerald Flynn.
Building a City for the Rich and Powerful
With both Hun Mana and Hun Maly, children of Prime Minister Hun Sen, listed as directors at Orkide Villa—one of the real estate developers currently filling in the wetlands—the lines between political power and business elites does not just blur, they cross over.
Lim Bun Sour is also listed as a director of ING Holdings in Cambodia, which is responsible for a large part of the wetlands' infilling. Bun Sour also serves as a director at KHBS Realty Company, where real estate magnate Kim Heang—a known associate of Koh Kong Special Economic Zone operator Oknha Ly Yong Phat—is operating.
Ly Yong Phat, who serves as an economic advisor to Hun Sen, is known for his dominance in the development of Koh Kong Province, but his involvement in the filling in of Cheung Ek only serves to highlight the interconnectivity of Phnom Penh's business and political elite within the construction sector.
Even Khov Kimbak, an advisor to Interior Minister Sar Kheng, appears to have received a slice of Cheung Ek in a 2018 sub-decree that named him and Orkide Villa as being granted roughly 47 hectares—37 to Orkide Villa, 10 to Kimback. Ek Tha, spokesperson for the Council of Ministers could neither confirm nor deny that the sub-decree named Kimbak as a leaseholder, and instead directed enquiries to the Ministry of Interior, whose spokesperson—Khieu Sopeak—declined to comment on the matter.
The number of companies with known connections to the government goes on and includes, but is not limited to, ING Holdings, Aeon Mall, Borey Peng Huoth, Chip Mong, International School Phnom Penh, Lingnan Gardens—a condo developer—Star Auto, which represent Mercedes Benz in Cambodia, Orkide Villa and Urban Village.
Attempts to contact the vast majority of these companies were unsuccessful, but Catherine Chan who serves as executive director at Urban Village—a luxury accommodation developer who is leasing from her family's company Goldframe Group to build on the wetlands—said that Cheung Ek represents a large piece of real estate.
"We're still planning to build for sure. It's a big piece of land," she said, adding that she felt the price was competitive.
Chan went on to say that Urban Village aims to be accessible, offering apartments at $1,700 per square meter or $480 per month on a $72,000 finance plan.
She confirmed that the Urban Village project began in 2017 and cited the company being awarded the Hong Kong Institute of Environmentalists' Greenery Award as a sign of her previous projects' sustainability.
"We want to develop because we see that there is a real demand for Cambodians who need to stay in a place which has a community," Chan said, adding that flood prevention work had been done, although she failed to elaborate on specifics.
When asked about the social and environmental impacts of her development project, she replied that she was not the right person to discuss ecological issues related to land reclamation.
She also said that an environmental impact assessment had been conducted during the construction of the Urban Village project, but stopped replying to messages when asked to share the results of the assessment. Typically environmental impact assessments are stipulated by the Ministry of Environment before construction begins, although ministry spokesperson Neth Pheaktra did not respond to requests for more information.
Farmers Renting Public Land from Powerful Figures
A recurring theme that arose from conversations with communities around the wetlands was their lack of legal ownership of either their homes or the land they farmed, but despite the government listing the wetlands as state public land, most farmers were in fact renting their plots.
One community leader explained that it was a common practice among the residents of Cheung Ek to pay a nominal fee of $400 to $500 each year to rent a hectare of the wetlands for farming and fishing.
"We have to pay upfront, so if your crops fail or the fish stock drops, you've lost your money," he said. "Nobody in my commune has land titles, but most of the community has been here at least 10 years—we've worked with NGOs to get land titles, but it's always denied by the government."
When asked who he is renting state public land from, he explained that there is a whole system operated by middlemen.
"Each community has a few of these middlemen, they say they represent City Hall—some of them say they represent other middlemen—and then they collect the annual rent from all the farmers, but they then have to pass that further up to other people, the people who control the land are high-ranking CPP members," he said.
"I've been trying to bring the community together—it's easier to solve problems as a group—but these high-ranking government officials, they hire people to do their work and exploit the farmers here," he added.
The murky networks of middlemen appears to obscure the true owners of the lake, but the paradox of the legal status of the wetlands does little to clarify the situation.
Cheung Ek was legally demarcated as a lake in 2008, despite the 2001 Land Law stipulating that such water resources as lakes and wetlands should be preserved as state public land. Furthermore, the 2008 sub-decree only listed 520 hectares of Cheung Ek as a lake, while the wetlands themselves span between 1,500 and 2,500 hectares—expanding in the rainy season and contracting during the dry season.
"We also heard about the renting—how can people rent a lake?" asked Eang Vuthy of Equitable Cambodia.
State Public vs. State Private Land
The conundrum is perplexing, as Vuthy pointed out. The 2001 Land Law states that state public land cannot be leased, but the 2006 sub-decree on Rules and Procedures on Reclassification of State Public Properties and Public Entities stipulates rules for changing state public land into state private land, which can be leased to developers.
Only if the land is no longer in the public interest, has lost its functionality in serving the public interest or is no longer used directly by the public can state public land be reclassified as state private land.
"If you say it is public land, how can people have ownership of it? If we say it has public interest, it is public land and it plays an important role in the city, so how can people be renting it out to the communities?" Vuthy asked, adding that this should not be happening.
A new road or drainage system that requires a community in the wetlands to be evicted will see the government classify the land as state public, but property developers looking to fill in the wetlands are granted sub-decrees stating Cheung Ek to be state private land, he said.
"This is a double standard," he said, noting that the law is clear, but its interpretation is very different. "The lake is clearly playing a very important role in the public interest, it mitigates the flood risk for the city, it cleans up the wastewater before it goes into the river system and that very clearly represents a huge interest for the public and the city.
"Honestly, if we look at the law and if the law was being fully followed, then this land would not be built upon—it would be kept for public interest," he stated.
A Lack of Transparency and Scrutiny
Again, neither Seng Lot, spokesperson for the Ministry of Land Management, nor Leang Monirith, secretary of state at the same ministry, responded to repeated requests for comments and clarifications of the law fielded by multiple reporters.
Adding to the confusion, there is even less consensus among researchers as to how ING Holdings—the real estate firm behind the ING City development project—was granted a lease for 2,572 hectares in 2004, years before Cheung Ek was officially demarcated or the sub-decree on the reclassification of land existed.
ING Holdings could not be reached for comment, despite numerous attempts, but the project overview on their website states that the company has been reclaiming marshlands since 2004 and owns 45 percent of the ING City project, but also indicates that the company will act as the management committee for the entire project, including the 520-hectare section of lake and canals.
ING Holdings' project overview also states a conservation area, but lacks details as to the amount of the Cheung Ek wetlands that would be spared. It is difficult to imagine that there will be much of Cheung Ek to conserve, as subsequent sub-decrees appear to have leased off all but 107 hectares of the wetlands to ING Holdings, the Chip Mong Group and others.
"There's an issue of justice and equity, economic justice," noted Brian Eyler, director of the US-funded Stimson Center's Southeast Asia program. "There needs to be advocates for that state public land and the use of it, because that murky process of someone—overnight—getting paid and that land gets changed into state private land, and with that change comes different regulations and restrictions on the usage of that land."
Eyler warned that property developers currently filling the wetlands ought to reassess their decision and prioritize conservation over profit.
"That process needs to be deeply scrutinized and it's one that is often swept to the wayside or scrutiny happens only when it's politically convenient for all sides," Eyler said. "Land justice is always a concern in Cambodia, but it only ever really becomes an issue when the high levels of government find it convenient to address."
The future remains uncertain for the residents of Cheung Ek and Boeung Tompoun, but more people are leaving as their livelihoods are compromised by urbanization. Photo: Gerald Flynn.
Related Articles