PM Orders Halt to Projects Handled by Ly Chhuong Construction, Citing Corruption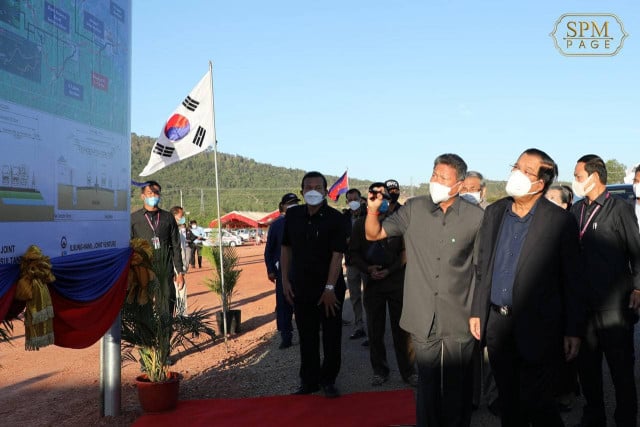 Questions have been raised from the Ministry of Economy and Finance about bidding processes that repeatedly saw projects handed to Ly Chhuong Construction, especially at the provincial level
PHNOM PENH--Prime Minister Hun Sen on Jan. 3 ordered all projects involving Ly Chhuong Construction and Import-Export to stop in every province and threatened to remove any provincial governor who still deals with the company.
Speaking at a ceremony related to upgrades to National Road 44, Hun Sen's order came as a result of alleged corruption uncovered by the Ministry of Economy and Finance, which found that Ly Chhuong Construction was owed money from numerous provincial administrations for projects that the national government was apparently unaware of.
"It is a cancer when the subnational level is doing [something], but required the national level to pay. You [governors] conspire with this company without running any public auction," Hun Sen said.
"It is corruption that needs to be cleaned up as it is due to become the public debt burden," he added, saying that provincial administrations cannot borrow money from national or international institutions.
"All the state projects between provincial administrations and Ly Chhuong were corrupted," he continued, adding that he would remove any provincial governor who continues to work on these projects with the company.
In the meantime, Hun Sen revealed he also plans to audit provincial infrastructure projects with the company. If any irregularities are found, those provincial governors may face problems, he added.
"I urge the company to stop immediately, otherwise I will put the company on the blacklist," Hun Sen continued.
Ly Chhuong company, known for building the National Assembly in 2005, could not be contacted for comment.
President of the People's Centre for Development and Peace—an NGO focused on inequality and rule of law—Yong Kimeng said that if any construction company cannot build high quality roads, the government should take action otherwise the state will lose national budget on low grade infrastructure.
"We're doubtful whether previous auctions were fair and transparent or not. That needs reassessment and reevaluation to find out why this company always won the auctions," Kimeng said.
"The government should follow up, reevaluate and observe the auction and procedure, it might get the best quality construction company to build roads," he added. "It's better to publish publicly about road construction processes, especially how long, how thick those roads are and which standards the roads meet so that people can follow up and observe together."
Pal Chandara, Ministry of Public Works and Transportation's spokesman stressed that the government has paid greater attention to road quality and strictly checks all the roads with proper technical mechanisms.
"Senior Minister Sun Chanthol always inspects the quality of roads without informing the company in advance. If he finds low quality and standards, he won't accept them or tolerate that company, and that company is punished and needs to rebuild it properly," he explained.
Related Articles