PM to Select Some Provinces as a Mask Abrogation Experiment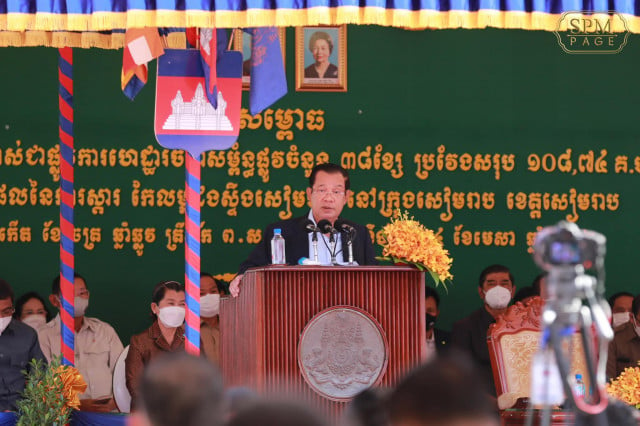 The test aims at reducing people's expenditures
PHNOM PENH – The government is considering selecting one or two provinces as experimental areas to abolish the obligation of wearing masks, Prime Minister Hun Sen said.
Speaking at the inauguration ceremony of 38 roads in Siem Reap provincial city on April 4, the prime minister said the number of COVID 19 infection cases was decreasing. As of April 3, there were 33 positive cases officially detected with PCR tests, most of them being in Phnom Penh.
Such an experiment would aim at reducing people's expenses, on both aspects: buying masks on a regular basis and getting fined for not wearing a mask in public areas. On March 22, 2021, the Ministry of Health clearly determined that any person who does not wear a mask in public and crowded places and does not keep social distancing, must be fined between 200,000 riels and 1 million riels (about $49 and $245).
To explain his idea during his speech, Hun Sen picked up both Preah Vihear and Oddar Meanchey provinces as examples. If Preah Vihear province is selected to cancel the obligation of wearing masks, people living there won't have to wear a mask anymore in public spaces, unless they travel to another province, such as Siem Reap. But if Oddar Meanchey is also chosen to be part of the experiment, people from Preah Vihear and Oddar Meanchey could travel without a mask within both provinces. So far, no province has been officially selected as part of the mask abrogation experiment.
However, the prime minister advised people to continue wearing masks, until the government officially announces it. And he also calls on people who were not getting the third doses to get the boosting dose.
Through the country's vaccination campaign, 14.04 million people had received two doses of COVID 19 vaccines, and 7.9 million people received up to three doses as of April 3. The vaccination campaign for the fourth dose of the vaccine is ongoing.
As of April 2, Cambodia had registered 135,747 COVID 19 cases since the start of the pandemic. Among them, 132,068 patients have recovered while 3,054 persons have passed away.
Related Articles